Mighty Gunvolt Burst: 80 000 downloads worldwide, demo now available, free DLC character to unlock
Earlier this week, Inti Creates released a demo version for Mighty Gunvolt Burst, available on both Nintendo Switch and Nintendo 3DS. It allows you to try out the tutorial City stage, as well as the Waterworks Bureau and Radio Tower stages, with Gunvolt, Beck, or Ekoro.
Inti Creates specify that those stages are exactly identical to their counterparts in the full version of the game. You can also get rare items from them, and you can play them as many times as you want. However, there's one (minor) difference: the Challenges in the demo version are different from the ones in the full version. That being said, the rewards you get for completing them include items found in the full version.
But the best thing about this demo is that it allows you to get a free DLC character in the full version of the game: Ekoro. Unfortunately, if you already bought her, you will not get anything, it seems…
To get Ekoro, you need to transfer your save data from the demo to full version of the game. To do so, you simply need to follow those instructions:
Ensure that the retail version is updated to the most recent version of the game.
Start up the retail game, while there is save data for the demo version on the system.
Choose the "DATA TRANSFER" option from the Title Screen.
Follow the instructions on-screen to select the save data from the demo version, then copy it to the file slot of the retail version.
In order for the transfer to work, you need to download the latest version of the game: Ver. 1.3. This update adds several new DLC characters: Ray, Copen, and Kurona. It also fixes a couple of issues for the game: you can find more details about it on this page!
Here's a trailer introducing Ver. 1.3 of Mighty Gunvolt Burst:
Finally, Inti Creates revealed that since launch, over 80 000 players have bought Mighty Gunvolt Burst on either the Nintendo Switch or the Nintendo 3DS, worldwide. It looks like it should be able to reach 100 000 later down the line! To celebrate, Inti Creates shared a special wallpaper, that you can download from the official website.
Here's what it looks like: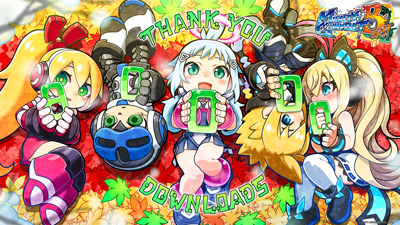 Source: Inti Creates