JP News (Oct. 28): Puyo Puyo Chronicle footage / Monster Hunter XX / Nintendo Badge Arcade
Today's Japanese news: some gameplay footage for Puyo Puyo Chronicle, but also…
Monster Hunter XX (Double Cross)
Nintendo Badge Arcade
Sonic Boom: Fire & Ice
Tetsudou Nippon! Rosen Tabi Aizu Tetsudou-hen
Puyo Puyo Chronicle
Today, avex uploaded a video for Puyo Puyo Chronicle on their YouTube channel. But why avex, and not SEGA? It's because it features AAA, the duo SEGA "hired" for the game's promotion. The video features some gameplay footage, with a bit of the Story Mode (nothing really new), the Boss Battle Together mode, and finally some multiplayer.
Here's the video:
Puyo Puyo Chronicle (3DS) comes out on December 8th in Japan.
Monster Hunter XX (Double Cross)
Yesterday, Capcom revealed Monster Hunter XX (Double Cross) during the Monster Hunter Direct presentation. The game keeps the new elements introduced in Monster Hunter X, including the Hunting Styles. In fact, there will be two new ones: the Brave Style, and another one that will be revealed at a later date.
But in the extended version of the reveal trailer, we got a hint about that second new Hunting Style, who can apparently use exploding barrels. Capcom launched a Twitter campaign, and ask fans to try and guess the name of that new Hunting Style. There's some prizes to win: a bag and some plushies of the four original Main Monsters!
Monster Hunter XX (Double Cross) (3DS) comes out on March 18th in Japan.
Source: 4Gamer.net
Nintendo Badge Arcade
Today, Nintendo added the following badges to the Nintendo Badge Arcade:
Super Mario Maker badges
New Super Mario Bros. U badges
Pokémon badges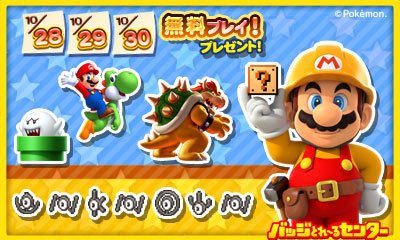 Source: Nintendo
Sonic Boom: Fire & Ice
Here's the full recording of the launch livestream for Sonic Boom: Fire & Ice (released yesterday in Japan):
https://www.youtube.com/watch?v=YLyvo9Zk20s
Tetsudou Nippon! Rosen Tabi Aizu Tetsudou-hen
Here's the boxart and some screenshots for Tetsudou Nippon! Rosen Tabi Aizu Tetsudou-hen (Nintendo 3DS), releasing on November 24th in Japan:
Source:
Amazon.co.jp
A Ressha de Ikou 3D NEO
Here's the overview video for A Ressha de Ikou 3D NEO, releasing on December 1st on Nintendo 3DS: