[Japan] Nintendo eShop line-up (March 23) – Elliot Quest / Toki Tori 3D
This week, the line-up for the Nintendo eShop in Japan is filled with games that are already available in Europe and/or North America, and that includes some of the Virtual Console titles (the exceptions are the retail titles and Cho Aniki on Wii U Virtual Console). Overall, it was a pretty decent week!
Bolded are games we recommend.
Wii U
Elliot Quest (Pikii): 1 000 Yen
Astral Breakers (CrossFunction): 539 Yen
Wii U Virtual Console
Nintendo 3DS
Toki Tori 3D (Rainy Frog): 400 Yen
Hello Kitty no Kirakira WakuWaku Race / Hello Kitty and Sanrio Friends 3D Racing (Bergsala-Lightweight): 864 Yen
Dragon Quest Monsters Joker 3 (Square-Enix): 5 670 Yen
Ansatsu Kyoushitsu: Assassin Ikusei Keikaku!! (Bandai-Namco): 6 156 Yen
Nintendo 3DS Themes
Nintendo Badge Arcade
This week, Nintendo added 10 panels of Pokémon badges, and… that's pretty much it. Of course, there's also the usual 2 free plays!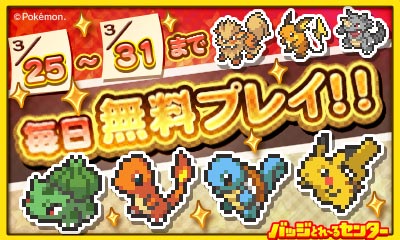 Source: Nintendo / Nintendo eShop