Yo-kai Sangokushi getting a collaboration with Toukiden, Samurai Cats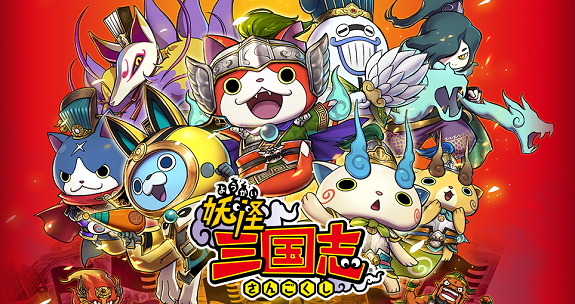 Today, Level-5 revealed three TV commercials for Yo-kai Sangokushi (a collaboration title between the Yo-kai Watch series and the Romance of the Three Kingdoms franchise), which comes out next week in Japan. But that's not all: the company also revealed a ton of screenshots and artworks for the game.
The screenshots and artworks showcase the many Yo-kai to be found in the game (posing as characters from the Romance of the Three Kingdoms), the three playable Yo-kai (Jibanyan, USApyon, and Komasan), the battle system (with basic actions, the Soultimate attacks, the Generals duels and more), the bosses, and more.
Yo-kai Sangokushi also feature Yo-kai fusion, which works as follows:
Yo-kai + material
Yo-kai + another (compatible) Yo-kai
But more importantly, Level-5 revealed that Yo-kai Sangokushi will get collaborations with two other Koei-Tecmo series (this is starting to get pretty meta!). The game will feature two special Yo-kai, that you can recruit by completing specific quests. They are:
Tenko (from Toukiden: The Age of Demons)
Oda Nobunyaga (from Oda Nobunyaga no Yabou / Samurai Cats, which is itself a cat version of the Nobunaga no Yabou / Nobunaga's Ambition series)
Finally, Level-5 gives a details about a feature called Unchiku Corner. Thanks to this feature, players can have Unchikuma (a Yo-kai with unparalleled knowledge) explain the famous events from the Three Kingdoms era.
Head after the break for plenty of screenshots and artworks!
Here's the artworks for the Yo-kai characters, but also the bosses:
And finally, here's all the screenshots (and some illustrations) for the game, including some cutscenes:
Yo-kai Sangokushi (3DS) comes out on April 2nd in Japan.
Source: 4Gamer.net