Indie news (Feb. 23) – Quest of Dungeons / Space Dave!
Update:
***
Today's Indie news:
Quest of Dungeons
Space Dave!
Soul Axiom
Stone Shire
Quest of Dungeons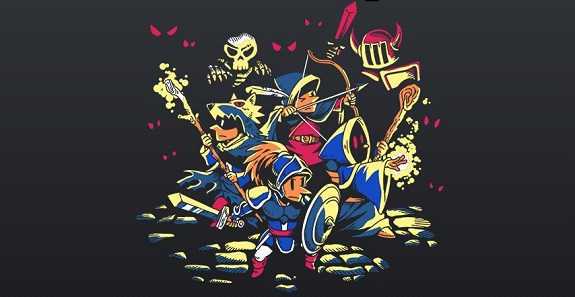 Quest of Dungeons is a dungeon crawling roguelike that previously came out on PC / Mac / Linux / Xbox One, and yesterday, the developers confirmed (via NintendoLife) that they were working on Wii U and Nintendo 3DS versions of the game.
Here's the features of the game:
Procedural dungeons
Procedural weapons
Boss encounters
Quests
3 Difficulty levels
Permadeath – Once you die, game over man, game over!
Shop – buy and sell items/weapons
Here's some concept screenshots:
Space Dave!
Here's a teaser trailer for Space Dave! (Nintendo 3DS, Wii U), with some gameplay footage:
Soul Axiom
Here's the latest trailer for Soul Axiom (and more precisely the PC version), a First Person Adventure game coming "soon" to the Nintendo eShop of the Wii U:
Stone Shire
Stone Shire is one of the many Minecraft clones that came out on Wii U, and it will soon get an update. What's in Ver. 1.1? The developers posted the patchnotes on their official website yesterday:
Dynamic Lighting & Torches
Water
TV-Off Play/ Wii U GamePad Only Mode
Doors
New Map Generation
Pickaxe Visual Update
Caves
Controls
Custom Named Save Files
Wii U Pro Controller & Classic Controller
New music has been added. For some of the tracks, you can listen to them here: Felix Arifin SoundCloud
View distance has been increased.
Invert controls have been fixed for North America version. They are already fixed in the Europe release.
Also, the developers explain that the game will be released in Germany and Australia at the same time as the update.
Source: FingerGunGames
Europe
Here's two possible release dates for Wii U games in Europe:
Star Ghost: March 10th (8.99€)
Grumpy Reaper: March 3rd (4.99€)