Indie news (April 8) – SteamWorld Heist: The Engine Room #13 (Nintendo Direct Pt. 1)
Today's Indie news:
SteamWorld Heist
Shantae: Half-Genie Hero
Dodge Club Party
Chronicles of Teddy: Harmony of Exidus
Aqua Moto Racing Utopia [Update!]
Choice Provisions [Update!]
80's Overdrive [Update!]
SteamWorld Heist
Today, Image & World uploaded the 13th episode of The Engine Room, their webshow entirely dedicated to the SteamWorld universe. In this one, they talk about the segment they created for the Nintendo Direct, back in November. It's something that actually had an impact on development, and involves a promise they may very well have not been able to keep.
Here's the topics covered in the video:
– What has Image & Form been up to lately? 00:17
– Shooting and dubbing the Nintendo Direct video 03:21
– How Nintendo Direct made us finish SteamWorld Heist in 2015 05:48
The next episode will be a meaty Q&A about Nintendo Direct!
SteamWorld Heist (Wii U eShop) comes out later this year!
Shantae: Half-Genie Hero
Today, WayForward posted a Kickstarter update for Shantae: Half-Genie Hero. They reveal that they're currently moving ahead towards the pre-alpha, and that they should be content-complete in two months or so. After that, there should be one month of testing, three weeks for ratings and translations, and finally, the game will be ready for the submission process (which should happen sometime in July, if everything goes well).
The developers also showed some animationq for one of Shantae's mythological transformations, and more precisely the Spider Form. For those who didn't know, the game will feature 5 main "Animal Transformations", and 3 additional "Mythological Forms".
Finally, they showed two screenshots:
Click here to read the Kickstarter update!
Head after the break for the rest of this post!
Dodge Club Party
Yesterday, James Montagna announced that his latest game, Dodge Club Party, would be released next week in North America (on April 14th). It will cost $1.99.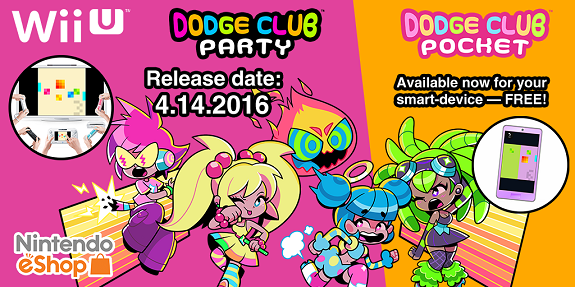 Our Upcoming Releases page has been updated with that release date.
Chronicles of Teddy: Harmony of Exidus
Here's the latest trailer for Chronicles of Teddy: Harmony of Exidus, which is now available in Europe and North America!
Aqua Moto Racing Utopia
Here's the latest trailer for Aqua Moto Racign Utopia, coming soon to Wii U:
https://www.youtube.com/watch?v=odgCTnILxiQ
Choice Provisions
Yesterday, Choice Provisions announced they had to close their San Francisco development studio due to dramatic changes in the game industry in the past few years. You can find the blog post by clicking here: it provides some additional details!
80's Overdrive
Earlier this week, Bidness Etc. published an interview with Rafal Kemnitz, developer of 80's Overdrive. In this interview, he explains what his sources of inspiration for the game are:
Hmm… all of the 2D racing games of the 80s and early 90s. Especially OUTRUN and it's style. But also games like Crazy Cars/Lamborghini American, Lotus 3, Top Gear Series on SNES, Chase HQ. […] Retrowave and 80s pop music, Hotline Miami style, graphics, color and music as well as Kung Fury, 80s action movies. 80s typography, posters, colors.
He also talks about the game modes available:
Career mode (where you can tune your car)
time attack mode  (the further you go, the better your score)
track editor (you will be able to share the tracks with friends using codes).
You can read the full interview by clicking here!
Rafal Kenmitz also posted the following tweet earlier today, explaining how he made sure the limited VRAM of the (OG) Nintendo 3DS wouldn't be a problem:
To make sure everything will be ok on old #3ds 6MB VRAM, texture system was reworked to pack stuff tight! #gamedev pic.twitter.com/FvJ9FIj3uw

— 80's OVERDRIVE (@80soverdrive) April 8, 2016
80's Overdrive (3DS eShop) should come out this Fall in Europe and North America.