Update – Gold Mario amiibo: no delay for pre-orders
Update: looks like there won't be any delay for the Golden Mario amiibo after all. Walmart has sent a PR to confirm that the mail sent to some people who pre-ordered the figurine was an error, and that March 20th remains the official release date.
There's no trouble in the Mushroom Kingdom. Mario Amiibo fans will still see Gold on March 20, 2015. Walmart.com pre-order customers may have seen an incorrect availability date in their account, and we're in the process of correcting that order information to assure fans that there are no delays.
***
amiibo releases in North America have always been a bit sketchy: release dates not respected, pre-orders cancelled or delayed, shortages from Day 1… Unfortunately, it doesn't look like things will improve with the Gold Mario amiibo, that Nintendo officially announced a few weeks ago.
This golden amiibo should come out on March 20th (only at Wal-mart), but it looks like some pre-orders have been delayed. The new release date is supposedly April 8th, but it looks like some stores are still going to get the Gold Mario amiibo on March 20th, as scheduled.
Here's a screencap received by some fans who pre-ordered the Gold Mario amiibo on the internet :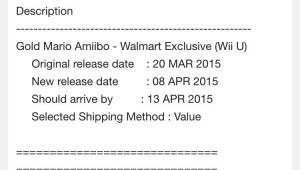 Looks like we're going to have to wait a few days before we have full confirmation.
Source: MyamiiboNews