eShop news (May 6th) – Affordable Space Adventures / Futudirium EP Deluxe
Today's Nintendo eShop news:
Nintendo Badge Arcade
Affordable Space Adventures
Kerbal Space Program
Futuridium EP Deluxe
Dodge Club Party
Brave Dungeon
Conveni Dream
Aikatsu! Stars: First Appeal
Nintendo Badge Arcade
Today, Nintendo added the following to Nintendo Badge Arcade in Japan:
Monster Hunter X badges
2 free tries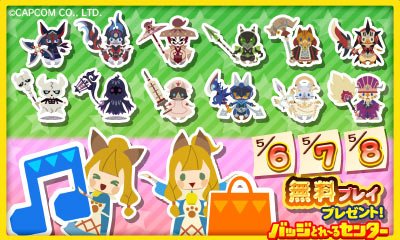 Source: Nintendo
Affordable Space Adventures
Affordable Space Adventures is by far one of the most unique and polished games available on the Nintendo eShop of the Wii U. It makes excellent use of the GamePad (better than many games from Nintendo themselves). If you liked its soundtrack, then you're in luck: the composer has decided to share it for free! Click here to find a download link and a few words about the soundtrack!
Kerbal Space Program
Kerbal Space Program is coming to Wii U at one point in the future, but today's piece of news is nowhere near as "glamorous" as a release date (and has, in fact, nothing to do with the Wii U version at all… at least not directly).
According to several former developers, Squad (the company developing the game) is known for "alleged high amounts of crunch time, regular firings, and incredibly poor pay" (which lead many people to wonder where all the money from the great sales of the game are going.
You can check out the full story on Destructoid!
Futuridium EP Deluxe
Good news for Wii U owners, the Wii U version of Futuridium EP Deluxe is not just ready, it's passed lotcheck at Nintendo. Click here to check out a picture of the celebration party!
Head after the break for the rest of this post!
Dodge Club Party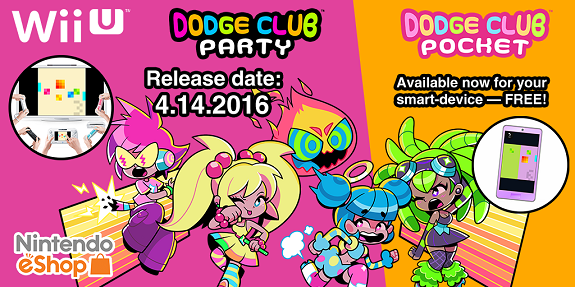 Dodge Club Party (Wii U) is the second game by James Montagna as an independent developer, and it was released a few weeks ago in North America (it's coming "soon" to Europe).
If you liked its soundtrack (composed by Tommy Pedrini), you can now listen to it for free on this website. And if you really like it, you can buy it: you're free to name your price, but if you pay at least $5, you can also get a free download code for Dodge Club Party (offer available until May 8th) with it.
Brave Dungeon
Brave Dungeon is a "Chronicle 2D" RPG (which means it's part of the Legend of Dark Witch series), developed by the same team (Inside System), and with the same Director (NAN-A). It was previously known as Project Brave, and will be released later this year on the Nintendo eShop of the Nintendo 3DS in Japan.
Here's the teaser trailer and some screencaps from the official website:
This new game has been added to our Upcoming Releases page!
Conveni Dream
Earlier today, Circle Ent. confirmed that Conveni Dream was coming out in May… but didn't say whether it's for North America and/or Europe. We will update our Upcoming Releases page as soon as we get confirmation.
Aikatsu! Stars: First Appeal
Aikatsu! Stars: First Appeal is a Free 2 Download game, to be released in May in Japan (on the Nintendo 3DS). It's a rhythm game you can play for free, which works with Bandai-Namco Cardass cards. On said card, there's a DLC code you can enter in-game to unlock new songs. Besides the rhythm part, you can also decorate your room, and chat with other characters.
Here's some pictures:
Source: Famitsu