Daily Briefs (Aug. 18): (extremely expensive) Super Mario Bros. watch, more
Today's Daily Briefs: an (extremely expensive) Super Mario Bros. watch showcased at a tradeshow in Japan, but also…
Zero Time Dilemma
Yo-kai Watch 2: Bony Spirits / Fleshy Souls
Super Mario Bros. watch
Are you interested in a Super Mario Bros. watch? Are you really wealthy? Are you more than ready to spend a lot of money to get what you want? If yes, we have the perfect watch for you. At the 19th World Watch Fair, in Mitsukoshi, a Super Mario Bros. watch is being showcased. Here's some details about it:
Name: RJ X Super Mario Bros.
Designer: Romain Jerome
For men
Self winding
Ti case
Water resistance: 3ATM/30meters/100ft
Its price?… 2 700 000 Yen. Or 23 821€ / £20 611 / $26 855. Yeah… not exactly the most affordable of watches! Naturally, with such a price tag, there isn't going to be many units made: only 85 worldwide.
Here's a picture of the watch:
Source: official website
Zero Time Dilemma
Zero Time Dilemma is the third entry in the Zero Escape Series, and it was released back in June. The soundtrack was composed by Shinji Hosoe, who worked on 999 and Virtue's Last Reward. If you liked it, you will be glad to hear the soundtrack may get released at retail down the line.
Here's what Shinji Hosoe himself said to a fan on Twitter (click on the tweet to see the full conversation):
Oh, I know. You knew. I also want. We will prepare.

— shinji hosoe (@shinji_hosoe) August 18, 2016
Yo-kai Watch 2: Bony Spirits / Fleshy Souls
Planning to get Yo-kai Watch 2: Bony Spirits / Fleshy Souls? If you're planning to pre-order a copy at GameStop, you should know that you can get two keychains for free if you pre-order both versions of the game.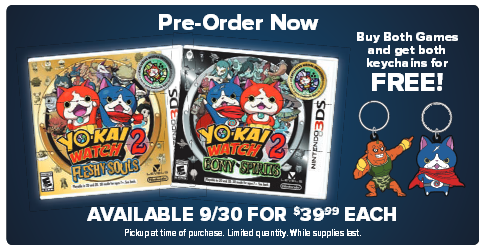 Yo-kai Watch 2 (3DS) comes out on September 30th in North America, October 15th in Australia, and Spring 2017 in Europe.
Source: GameStop