Dai Gyakuten Saiban: Capcom hiring two part-timers to play and discuss the game
Dai Gyakuten Saiban: Naruhodou Ryuunosuke no Bouken is the first game in brand new Ace Attorney series, coming out this year on the Nintendo 3DS. It's been a while since we last heard about the game, but today, a rather peculiar announcement was made. Capcom is currently hiring two part-timers, who will play the game and discuss it with Shu Takumi (Director) and Shintaro Kojima (Producer).
The best part of it? The job is actually paid, 30 000 Yen per day (though the part-timers are only hired for one day), with travel and food expenses paid for by the company. The two persons selected will get to discuss the game (as well as events and eventual goodies for it) with both Shu Takumi and Shintaro Kojima, and they will even be able to submit ideas (though there's no guarantee said ideas will be kept).
This job offer is not just for die-hard Ace Attorney fans: even people who have never played a game from the series can apply. No special knowledge is required, as Capcom will have trained staff to guide the two part-timers. Obviously, they will have to sign a NDA (Non-Disclosure Agreement), and leaking any info about the game will be strictly prohibited.
For more information about this job offer, you can check out the official page on Townwork.net.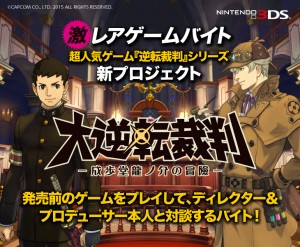 Obviously, this job offer is only for people living in Japan, and fluent in Japanese. It's definitely a dream come true for fans of the franchise, who can not only get to play Dai Gyakuten Saiban before anyone else (and not just the demo), but also talk with both Shu Takumi and Shintaro Kojima about the game.
Dai Gyakuten Saiban: Naruhodou Ryuunosuke no Bouken (3DS) comes out this year in Japan.
Source: Townwork.net