Ace Attorney – Spirit of Justice: website update (details, footage), screens, 3rd trailer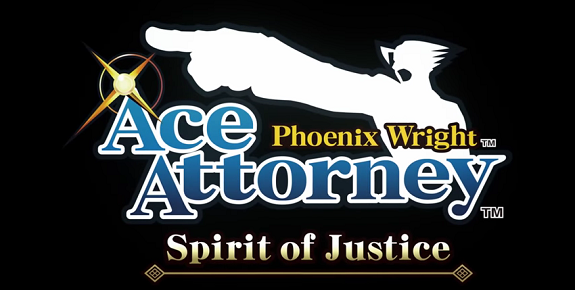 Today, Phoenix Wright: Ace Attorney – Spirit of Justice is featured in Famitsu magazine, with plenty of new details (mostly about Case 3). As usual, Capcom has updated the official website with details from the magazine, but also some footage of some of the new characters.
Footage + New characters
First, let's start with the gameplay footage, showcasing the new characters revealed in Famitsu magazine: Nanashiino Ganbe (Tentative), Saara Aatam, and Inga Karakhul Khura'in.
Talking of the new characters, here's some artworks for them:
Story – Chapter 3
For more details about Chapter 3, please check out this post!
Psyche-Lock and Revisualisation
Capcom gives additional details about two returning features:
Psyche-Locks: they work just like in previous Ace Attorney games. At some points in the game, you will meet characters hiding things from you. When asking certain questions, they'll simply refuse to answer, and you will have to break the Psyche-Lock that appear in order to make them talk. To break those locks, you need to present the right evidence. More often than not, you will have to come back later, as more investigation will be needed;
Revisualisation: the Revisualisation system kicks in at the end of court segments. Basically, it's a system that allows you to review the facts learned during the investigation and the court segments, and find a "route" to the truth. You are presented with a series of questions, and you have to find the right answers using everything you have learned, in order to reach a logical conclusion. If you've picked the right answer, you will "move forward" toward the next question.
Head after the break for the latest screenshots and the 3rd trailer!
Trailer and screenshots
Finally, here's the third trailer for the game, along with additional screenshots:
Phoenix Wright: Ace Attorney – Spirit of Justice (3DS) comes out on June 9th in Japan, and in September in Europe and North America.
Source: 4Gamer.net