[Japan] Splatoon: three sets of playing cards releasing in July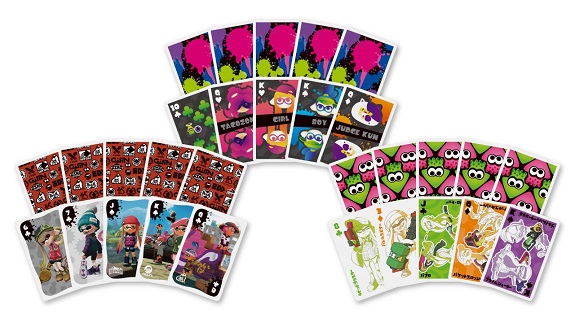 Worldwide, Splatoon is pretty popular, with over 4 million units sold since launch, almost one year ago (impressive for a brand new IP, on Wii U). But in Japan, that popularity is even more noticeable, with over 1.3 million units sold at retail so far. But it's not just the game which is popular, the goodies and other Splatoon-related events, merchandise, etc., are too. For example, the various Splatoon amiibo have sold 1 million units in Japan since launch.
Nintendo is well aware of that, which is why the Squid Research Lab is regularly showcasing various goodies and advertising events on the official Twitter account. And today, it showcased official Splatoon merchandise made by Nintendo: three sets of playing cards, which will be launch in July in Japan.
The three sets (which all cost 1 080 Yen each) are:
standard, featuring various icons;
Fashion, featuring various pieces of gear, along with the Squid Sisters;
Weapons, featuring various weapons.
Here's various pictures for those three sets of Splatoon playing cards:
Unfortunately, it's unlikely that those playing cards will ever be released outside Japan. At least importing them shouldn't really be an issue, and you don't have to deal with region-locking either.