Kamiko: teaser trailer, western release all but confirmed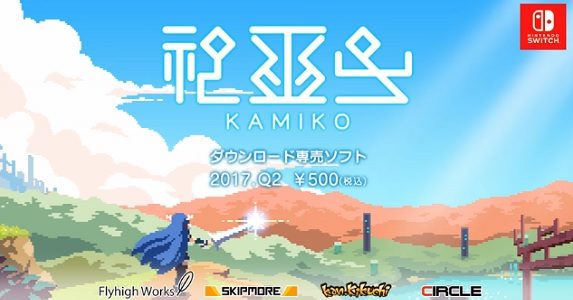 A few days ago, Famitsu magazine revealed a new downloadable game for the Nintendo Switch: Kamiko. Developed by the Skipmore (the developers of Fairune and Fairune 2), it's 2D action game where you get to play as three different shrine maidens (each with their own abilities), and go through various levels ending with a boss.
Today, Skipmore finally revealed the very first trailer… but unfortunately, it's just a teaser trailer, that doesn't show much of the game at all. It does give us a sneak peek at the really charming artstyle, which should definitely please fans of pixel art.
Here's the teaser trailer for Kamiko:
Kamiko will be released in April in Japan (though the trailer says Q2 2017), where it will cost 500 Yen. No western release has been officially announced so far, but as you can see, the Circle Ent. is shown in the teaser trailer. This basically confirms they will bring the game to Europe and North America… not that there were any real chances of them not doing so (after all, they did localise Fairune and Fairune 2).
Also, the developers shared some illustrations for the three characters you get to play as in the game:
Yamato: shrine maiden of water. She battles using Kusanagi no Tsurugi, a sword with a long reach;
Uzume: shrine maiden of earth, who lives in the forest. She battles using Yasakani no Magatama, a bow that allows her to attack from afar;
Hinome: shrine maiden of fire. She battles using Yata no Kagami, a shield that she can throw like a boomerang.
Finally, here's some screenshots (courtesy of
Circle Ent.
):
Kamiko (Switch – eShop) will be released this month in Japan.
Source: Famitsu