Ace Attorney: full title and premiere date revealed for the anime series
Update
We just added some pictures from the recording session of the original soundtrack: you will find them below!
***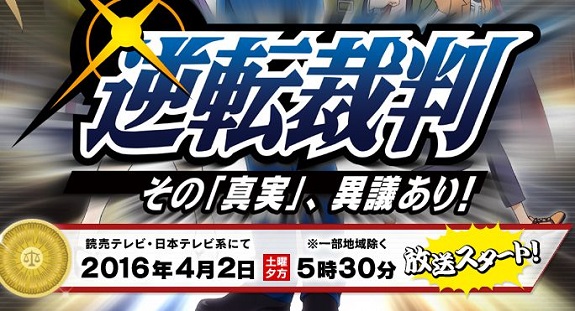 At the Tokyo Games Show 2015, Capcom revealed that the Ace Attorney series would get an anime series, in Japan. Then, at the Jump Festa 2016, it was revealed that the anime series would premiere in April, and the list of voice actors was revealed:
And today, it was revealed that the anime would premiere on Saturday April 2nd, at 5PM JST (on Yomiuri Television and Nippon Television channels). The full title of the anime series is Gyakuten Saiban: Sono "Shinjitsu", Igiari! (which could be translated as "Ace Attorney: I object to that truth!").
Here's the update poster for the Ace Attorney anime series:
Unfortunately, we will most likely have to wait a couple more weeks before getting a proper trailer for the anime series!
In the mean time, here's some pictures from the recording session of the original soundtrack, posted by Kaoru Wada (the composer):