[TGS 15] Ace Attorney 6: first trailer and additional details; anime series announced
Today, during a stage presentation dedicated to Ace Attorney 6, Capcom announced that the Ace Attorney series would get a TV Anime series next year. It will begin airing in April 2016, and will apparently cover the first three games (Phoenix Wright: Ace Attorney, Phoenix Wright: Ace Attorney – Justice for All and Phoenix Wright: Ace Attorney – Trials and Tribulations).
Unfortunately, we do not have any other details at the moment, such as the cast, the number of episodes, or the production studio. All we know is that the anime series will begin airing in April.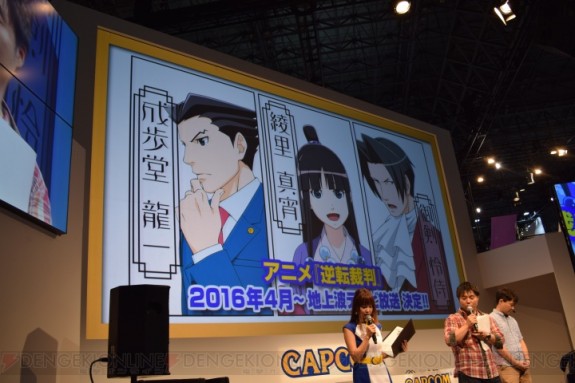 Capcom also revealed the very first trailer for the game this morning. Thanks to it, we learn that the game takes place in the Kingdom of Kurain, which may or may not be related to Kurain Village (the name isn't written with the same characters, but it's clear there is some sort of connection).
The mysterious girl seen in the original batch of screenshots/artworks is named Leifa Padma Kurai, and she's the Mystic Princess of the Kingdom of Kurain. As for the big water mirrors shown in Famitsu, they are used by mediums to show what the victim saw and felt right before they died. It's for this reason that defendants do not get a defense attorney in this country, because no one see the need for one.
Here's the first trailer for Ace Attorney 6:
Head after the break for a subbed version (unofficial) of the trailer!
Ace Attorney 6 (3DS) will come out next year in Japan. The European and North American release was also confirmed.
Source: Dengeki