Yo-kai Watch: more details for Yokai Sangokushi / YW3 details coming next month
Yo-kai Watch 3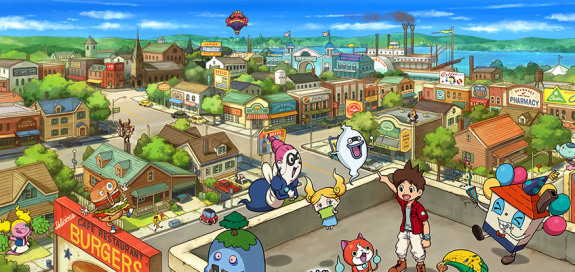 Yo-kai Watch 3 was announced back in April 2015, but we still don't know much about it. However, it looks like we're finally going to get new details next month! In its latest issue, CoroCoro announces that the next issue (to be released on February 15th) will have exclusive details the long-awaited Yo-kai Watch 3. Unfortunately, that's all we know for now…
Yo-kai Watch 3 (3DS) comes out this Summer in Japan.
Yo-kai Watch Sangokushi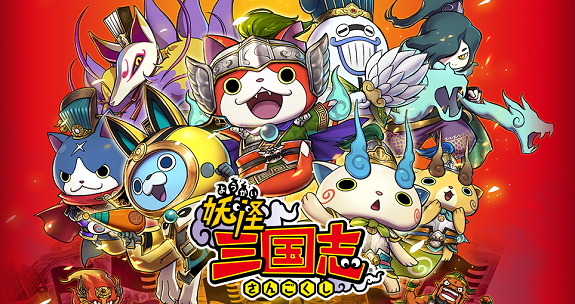 Yo-kai Watch Sangokushi is a collaboration title, bringing together the worlds of Yo-kai Watch and the Romance of the Three Kingdoms series (by Koei-Tecmo). It was announced back in April 2015, along with Yo-kai Watch 3, but we still know very little about the game itself (which is playable at the World Hobby Fair). Today, thanks to CoroCoro magazine, we finally have some proper details.
First: the story. One day, Komasa-san visit Keita's (Nate in English) school, along with Jibanyan and Whisper. In the library, he finds a mysterious book, which transports them into a mysterious world, in which the Yo-kai don some rather fancy armour.
At the beginning of the game, you can chose among the following Yo-kai:
Depending on your choice, the beginning of the story will be different. Also, each Yo-kai has its own abilities, so your choice at the beginning of the game will not just impact the story.
The following Yo-kai will appear in the game:
Orochi
Fubuki-hime
Kyubi
Bakuro
Robonyan
Masamune
Honobono
Next, we have some details about the various bonuses Level-5 has prepared for fans who already own previous Yo-kai Watch games. By linking the following games, they will be able to get some bonus Yo-kai:
Yo-kai Watch Busters: two Yo-kai
Yo-kai Watch 2: three Yo-kai
You can see which Yo-kai you get that way on the third scan below.
Finally, the early purchase bonuses are:
retail: Yo-kai + Yo-kai Medal (Komasan Sangoku)
digital: Yo-kai (Puchinyan Sangoku)
Here's the scans for Yo-kai Watch Sangokushi:
As bonus, here's more Yo-kai Watch scans from CoroCoro:
Yo-kai Watch Sangokushi (3DS) comes out this year in Japan.
Source: CoroCoro
Via: Mask de Jumbo
Thanks Joe for the heads up, and thanks StreetsAhead for the translations!