Yo-kai Sangokushi to be playable at the World Hobby Fair in January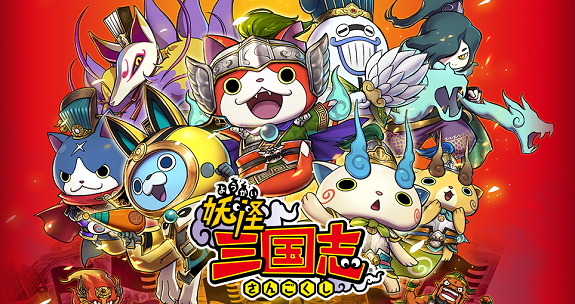 Back in April, during its Level-5 Vision event, Level-5 announced several Yo-kai Watch games. One of them is called Yo-kai Sangokushi, and it's a special collaboration with the "Romance of the Three Kingdoms" series by Koei-Tecmo (which is celebrating its 30th anniversary this year). Unfortunately, we don't know anything about the game, other than it's on Nintendo 3DS (which wasn't even announced at the conference).
Good news: it looks like Level-5 is finally ready to talk about the game, as it will be playable next month during the World Hobby Fair '16 Winter (which takes place in Tokyo on January 23-24th).The other two Yo-kai Watch games playable will be Yo-kai Watch Dance: Just Dance Special Version and Yo-kai Watch Puni-Puni (smartphones). Visitors who try them out will be able to get some goodies.
The official website for Yo-kai Sangokushi was updated, and includes some additional tidbits (but nothing really substantial). It reveals that all the Yo-kai will get their own "Romance of the Three Kingdoms" equivalent. It also confirms that the game will be coming out next year in Japan. At launch, players will be able to get an exclusive Komasan medal and strap.
Yo-kai Sangokushi (3DS) comes out next year in Japan.
Source: Level-5