Xenoblade Chronicles X: second update available (Ver. 1.0.2)
Xenoblade Chronicles X came out in April in Japan, and despite being a huge open-world game, it didn't require any massive update to fix major problems or glitches. In fact, it only get one minor update in July, in order to fix some glitches and adjust some features such as Skell sorting or the calculation method for Union Grams.
And on Wednesday, Nintendo released a second update for Xenoblade Chronicles X, which is even smaller than the first one. All it does is fix a glitch regarding union points:
fixed a glitch causing the player to acquire only one Union Point at a time when playing offline.
To update Xenoblade Chronicles X to version 1.0.2, you have two options:
– let the Wii U do its thing: if you have automatic downloads activated, you should have the latest version the next time you launch the game;
– launch the game from the Wii U Menu (not the Quick Start Menu): it will launch the update process, and all you have to do is a wait a few moment for the update to be downloaded and installed.
To check out that you have the latest version of the game, all you need to do is launch Xenoblade Chronicles X. You should see the following at the center of the screen: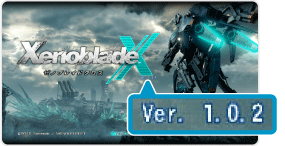 It's quite likely that both updates will be available on disc at launch, in Europe and North America.
Xenoblade Chronicles X (Wii U) comes out on December 4th in Europe and North America.
Source: Nintendo
Thanks Ryouga Saotome for the help with translation.