Xenoblade Chronicles 3D: JP livestream on March 28th [Live]
Xenoblade Chronicles 3D comes out in less than 2 weeks in Japan (as well as in Europe). In order to promote this New Nintendo 3DS game, Nintendo is going to broadcast a special livestream for it next Saturday, on NicoNico. Don't worry if you don't have an account: you won't need one to watch this livestream!
The livestream will be broadcast at 9PM JST, which gives:
– Europe: 1PM
– UK: 12PM
– North America (East): 8AM
– North America (West): 5AM
There will be several guests at this livestream, including:
– Tetsuya Takahashi (Executive Producer, Monolith Soft.)
– Genki Yokota (Director, Nintendo)
– John Kaminari (an actor / game journalist)
Together, they will play and discuss Xenoblade Chronicles 3D, and showcase it for players who never got to play the original version on Wii.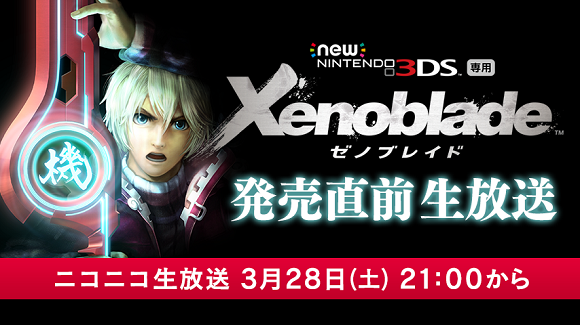 Xenoblade Chronicles 3D (New 3DS) comes out on April 2nd in Japan and Europe, and April 10th in North America.