Xenoblade Chronicles 2: details about the Challenge Battle Mode (Fiora and Shulk, costumes), out June 14th/15th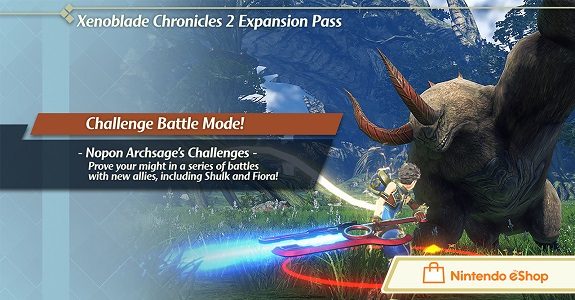 Update: you can find even more details about the Challenge Battle Mode in Xenoblade Chronicles 2 in this post!
***
Yesterday, we got our first look at the story DLC for Xenoblade Chronicles 2, called Torna ~The Golden Country. It's part of the Expansion Pass (though it's also getting a stand-alone release at retail), just like Challenge Battle Mode Pack, which is the next DLC Pack for the game. And it will be available much sooner than you were expecting…
Indeed, the Challenge Battle Mode Pack DLC for Xenoblade Chronicles 2 will be available to all Expansion Pass owner at the following time:
Europe: June 15th at 7AM
UK: June 15th at 6AM
North America (ET): June 15th at 1AM
North America (PT): June 14th at 10PM
Japan: June 15th at 2PM
To enjoy this DLC Pack, you will need to download the next Software update for the game (Ver. 1.5.0), releasing at the same time.
But you're probably wondering what on earth this Challenge Battle Mode Pack is all about. Good news: the DLC Pack was actually showcased during the Nintendo Treehouse Live, where we got to see a good look at it, with many details revealed.
First of all, here's where you will find the Challenge Battle Mode in Xenoblade Chronicles 2: it's accessed directly in-game (not via the main menu). You need to head over to the Olethro Playhouse (in the Kingdom of Uraya), and enter the portal that appeared there. It doesn't look like you have to beat the game first in order to unlock the Challenge Battle Mode, though it's not clear exactly at which point it will unlock.
The first time you enter, you get to see a special cutscene where Shulk and Fiora appear out of their own portal. Don't worry if you haven't beaten the game yet: this is no spoiler, as the pair only appears in this mode… or maybe not?
Looking to unlock Shulk and Fiora for the main game? Click here!
Here's some details about Shulk and Fiora (who were newly drawn by Kunihiko Tanaka):
Shulk: Light element. Uses the Monado as weapon;
Fiora: Wind element. Uses regular blades as weapon.
Of course, both Shulk and Fiora work like regular Blades: they even have their own sets of affinity rewards to unlock! As a true treat for fans of the series, Shulk (and presumably Fiora too) can use moves from Xenoblade Chronicles in this game.
In the Challenge Battle Mode "arena", there's two characters you can talk to:
the Nopon Archsage: talk to him to get a list of challenges that you can tackle. That's what the game mode is all about: a series of challenges that you can complete in order to earn various rewards (including Nopon Stones);
Archsage's Orderly: talk to the second Nopon in order to exchange your hard-earned nopon stones for various rewards… including new costumes for the characters. Remember that hoodie Pyra wears when you first arrive in Torigoth? It's one of the costumes you can unlock! Those costumes can be used even in the main game, but there's a catch: they take an Aux Core slot…
As expected for such a game mode, the Challenges are available in various difficulty levels. Of course, they're not all the same: not only the type and number of enemies you fight change from Challenge to Challenge, but so do the battle conditions. Some Challenges have more waves than others, while there are some that force you to play with only two characters instead of 3.
Also, your level is capped for those Challenges, and said level is not always the same (it can be Lvl. 20, Lvl. 60, or something else entirely, depending on the Challenge you've selected). In other words: there's no cheesing out battles by using your overpowered characters!
During Challenges, the enemies you battle drop something called Ether Cubes. Those disappear after a while, so you need to be fast and grab as many as you can while fighting enemies… you really need to learn to balance the ether cube collecting and the fighting!
Each Cube has a different value, based on what you did to make it drop. Special attacks allow you to get more Ether Cubes, and of better value. That being said, you need to be careful. You can't really go spamming attacks like a maniac, you need to plan your battles well. Keep in mind you also get Ether Cubes when you complete the Challenge.
But why do you need those Ether Cubes so badly, you ask? It's simple: those are used to "fill up" three treasure chests. Once you've filled up a chest, you have unlocked it, and you can open it… but only once you've completed the challenge.
In other words, it's perfectly possible to fill up all three chests, but without being able to open them if you can't beat the Challenge. It's also possible to complete a Challenge without unlocking all (or any of the) chests. Don't worry about missing some Ether Cubes: you apparently do not need to collect them all to fill up all the chests.
In the treasure chests, you will find various bits of treasure: Nopon Stones, money, and more. Try to fill up all the chests to open them all, and get all the sweet loot!
Of course, the battles can get really challenging… this mode isn't called Challenge Battle Mode for nothing. To be more precise, enemies can quickly become enraged, and can wipe your whole team out in a matter of seconds if you're not careful. You need to stay focused until the very end of the very last wave.
If you happen to fail, you can retry the challenge at any time, but you need to keep in mind you will not get any reward for your failed attempt (even if you've filled up one or more chests with Ether Cubes). Again: you only get rewards when you've completed a Challenge!
Here's the various "aspects" of the Challenges you have to tackle:
Time Limit: you have to clear the challenge within the alloted time;
Waves: the number of enemy waves you have to tackle;
Level restriction: the level your characters will be capped at;
Blades Powers allowed: some Challenges will disable them, making battles even more challenging!
Drivers Conditions allowed.
Quite interestingly, not all Challenges are available from the beginning. Some of them need to be unlocked by various means, including defeating specific unique monsters in the main game. Also, some Challenges allow you to enjoy additional tidbits of the story, and play as characters you never get to play as during the main game.
For example, one Challenge has you play as Jin on board the Ardainian Titanship, slaughtering Ardainian soldiers by the dozens (you need to defeat a certain number of enemies to clear this particular Challenge). While definitely not mandatory to understand the story, they do allow you to enjoy it even more.
Finally, here's some screenshots and the list of key features for the Challenge Mode DLC Pack:
New Challenge Battle Mode gives players many chances to test their skills, plenty of loot to earn, and some minor story elements that show the characters in a new light

Battle hordes of enemies in Waves to complete each challenge

Shulk and Fiora from Xenoblade Chronicles join the fight as Blades!
The Battle Challenge Mode Pack comes out on June 14th in North America, and June 15th in North America, Europe, and Japan. The Upcoming Games, the Software Updates, and the DLC and Expansion Pass pages have been updated!
Source: Nintendo / Nintendo Treehouse Live