A Week at the Source: Week 19, 2016
In collaboration with Source Gaming, we're bringing you these weekly recaps of the various articles, features, podcasts, and other content published during the past week on their website. The goal of those weekly recaps is for you to discover some quality content about various topics, with obviously a focus on Nintendo platforms.
If you have any comments or suggestions, please make sure to let us know in the comments below!
Source Gaming presents: The Month of May-lay!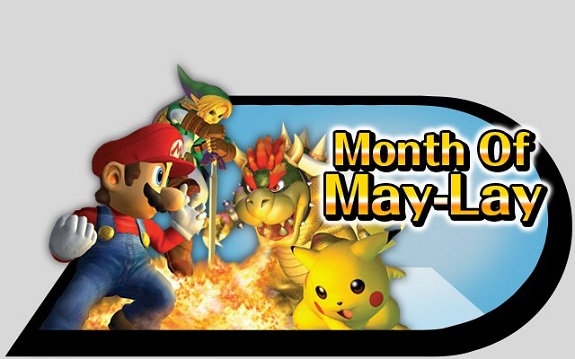 For May, Source Gaming has launched a project called The Month of May-lay. During May, they will post plenty of translated material from the official Super Smash Bros. Melee website (with at least one post a day). That includes an 8-part roundtable Sakurai held with the music and sound directors, and more.
You can learn more about the Month of May-lay by clicking here!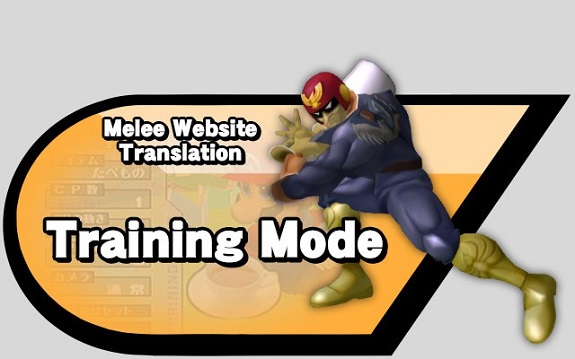 The eighth article for the Month of May-lay is about Training Mode. It may not be the mode players spend the most time in, but for newcomers who want to learn the ropes, it's a pretty useful one. In this post, Masahiro Sakurai explains how the Training Mode works, and everything you can do in it (including the many options of the Pause Menu).
Click here to check it out!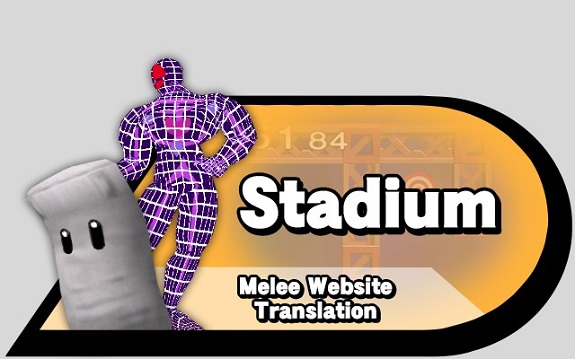 The tenth article for the Month of May-lay is about the Stadium. To be more precise, Masahiro Sakurai introduces the Break the Targets mini-game (which makes its comeback from Super Smash Bros. on Nintendo 64), the brand new Home-Run Contest, and finally the Multi Man Melee and its several modes.
Click here to check it out!
Head after the break for the rest of this post!
Melee Music Developer Roundtable: Orchestra and Chorus I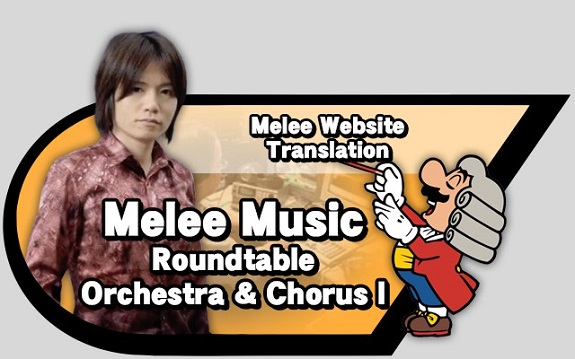 The ninth article for the Month of May-lay is Part 3 of the roundtable Sakurai held with the music and sound directors. The following people took part in this interview:
Shogo Sakai
Hirokazu Ando
Tadashi Kegami
Masahiro Sakurai himself
This one is about the Chorus and Orchestra. You can click here to read Part 1, and here to read Part 2!
PC Engine (Turbografx 16) – The Best Possible Video Quality
This feature video show how retro gamers can get the possible video quality for their PC Engine / Turbografx 16:
Potential New Pokémon Types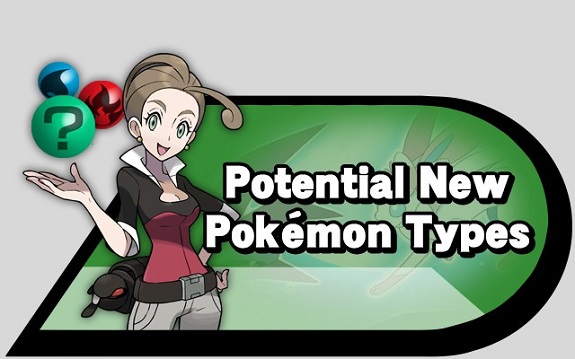 With Pokémon X and Y (the 6th Generation), Game Freak introduced a brand new type: Fairy. On Tuesday, we finally got the first proper details for Pokémon Sun and Moon, the first game for the 7th generation.  Naturally, there's still a lot we don't know about them… and what if they introduced yet another new type?
This article goes over some potential new types that could be introduced in Pokémon Sun and Moon (or any future Pokémon games), including the difference with other existing types, their relation with other types (weaknesses), and even some potential Pokémon for each new type.
Click here to check it out!
Pocket Card Jockey: Review
Last week, a really unique game came out on the Nintendo eShop of the Nintendo 3DS called Pocket Card Jockey. Basically, it's a game mixing (a very simplified version) of Solitaire and horse racing. Not only the game is quite unique, it's also much deeper than it may seem at first glance. If you're still not convinced, why not check out Source Gaming's video review?
You can find the text version of the review by clicking here!
Road to NX: An Analysis of Nintendo's Developers – Part 1 + 2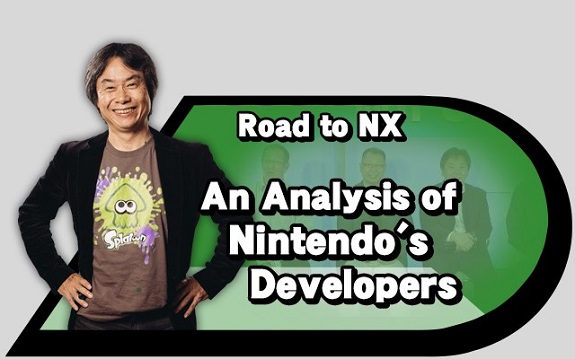 With the NX coming next year, in March, you're probably wondering what Nintendo is working on at the moment. And by that, we mean what each team within Nintendo is working on, not just the company as a whole. This article takes a look at the development history of the various teams/divisions, and try to figure out what kind of game they might be working on as you're reading this.
It's a pretty lengthy but thorough article, though obviously not 100% accurate (only one of the higher-ups at Nintendo would be able to write such an article!). It makes for a pretty interesting, especially for those who are interested in the various divisions/teams at Nintendo. Click here to check it out!
The second part of the article covers external studios that Nintendo own (such as Retro Studios or Monolith Software for example), but also specific companies who are independant but have chosen to work exclusively for Nintendo (like Next Level Games or Intelligent Systems). Click here to check it out!
The Truth Isn't That Simple — Sakurai Discusses Fan Misconceptions [Vol. 505]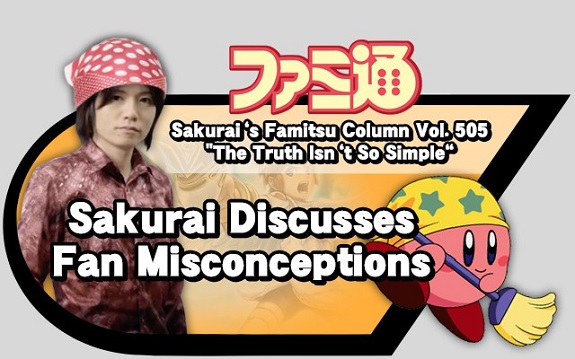 In the latest Famitsu column, Masahiro Sakurai talks about a topic which has become extremely important (and which was partially covered in previous columns): fan misconceptions. It's a pretty common thing on the internet, where people don't have access to all the facts, the complete picture, yet go on and make hasty judgements.
"A is a fact. I also know B. Therefore, A because B." People hastily connect the dots to draw their own conclusion.
If you've spent even a small amount of time on the internet (especially in places where people actively discuss things), you've definitely noticed this pattern. In this column, Masahiro Sakurai clears some of the misconceptions regarding himself, such as him being biased towards certain characters in Super Smash Bros..
He then explains how he usually deals with misconceptions, and how he usually let people think what they want (which is a pretty sensible thing to do, as way too many people are prone to what is called confirmation bias and simply won't listen anyway).
Click here to read Source Gaming's translation of the column!
SG Choice: Pokkén DLC Characters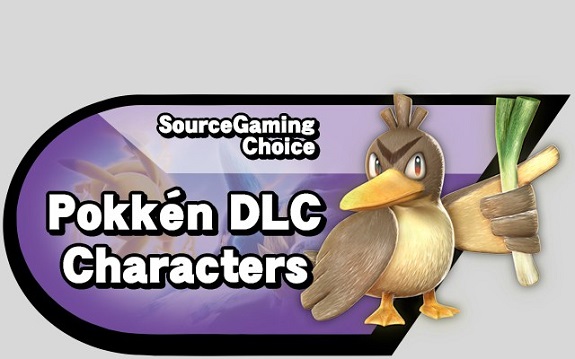 Officially, Pokkén Tournament will not get any DLC whatsoever: that's something The Pokémon Company has already confirmed. But what if… the game did end up getting DLC? What kind of characters would you like to see added? There's so many Pokémon to chose from (not to mention the new gen coming in November), chosing isn't that easy.
In this article, the Source Gaming team talk about the kind of DLC characters they would like to see in Pokkén Tournament. Click here to check it out!
The Many Ways to Play Game Boy Advance Software (Part 1)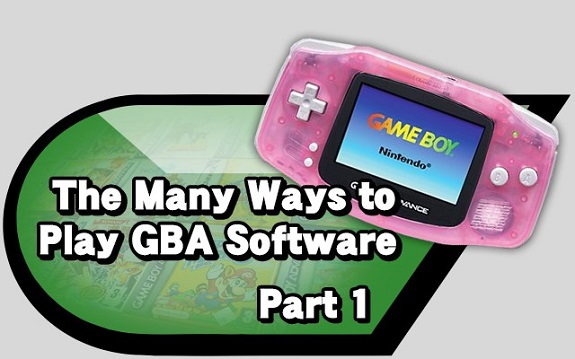 The GameBoy Advance is one of the most beloved handhelds ever made, with over 1 000 games to play. If you've never owned one and would you like to discover the console and its games, or if you previously owned it and want to go back it, you might be wondering what's the best play GBA games. If that's the case, then this series of articles is for you.
In this first article, the three main models of GameBoy Advance are compared:
the GameBoy Advance
the GameBoy Advance SP
the GameBoy Micro
Click here to check it out!
Dream Smashers – Steve (Minecraft) / Dream Arenas – Minecraft / Dream Items: Minecraft Assist Trophies, Items and Regular Trophies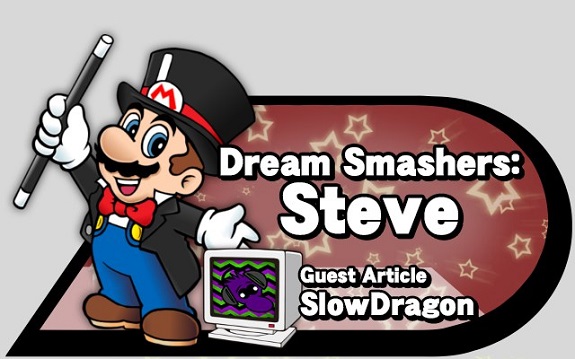 The Super Smash Bros. series has had several third-party guests in the past, such as a Sonic the Hedgehog, Cloud from Final Fantasy VII, or even Solid Snake from the Metal Gear Solid. What's the common point between all those characters? They're all from famous and popular franchises, and an important of the gaming History.
While Minecraft doesn't really have the "prestige" of Final Fantasy or Metal Gear Solid, there's no denying its incredible popularity, which extends far beyond the reach of "traditional" players. Its impact on popular culture is also quite noticeable, and it certainly doesn't look like a fad doomed to disappear in a couple of years.
And what if Minecraft one day managed to get a ticket to the world of Super Smash Bros.? In a series of articles, SlowDragon takes a look at what Minecraft could be like in Super Smash Bros.:
the first one takes a look at Steve (the "protagonist" of Minecraft), who could become a fighter [click here];
the second one takes at what a Minecraft stage could be like [click here]
the third and last one takes at possible items and (assist) trophies from the Minecraft universe [click here]
Thanks for reading!