The Legend of Zelda: Tri Force Heroes – Miiting Part 2
A few weeks ago, Nintendo posted a Miiting interview for The Legend of Zelda: Tri Force Heroes, with Hiromasa Shikata (Director). Today, the second part of the interview was finally posted in English, allowing fans who can't read Japanese to learn more about the game and its development. We're only going to post some excerpts below, so if you want to read the full thing, click here!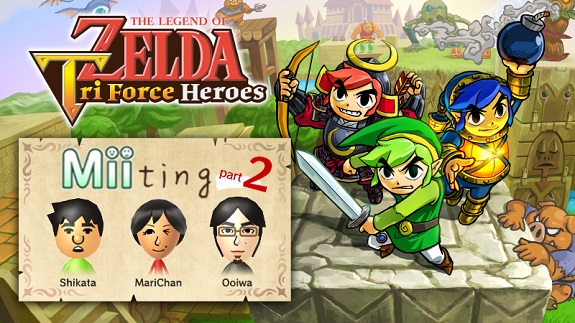 In this second part, Hiromasa Shikata is joined by Mikiharu Ooiwa from Grezzo (who co-developed the game). The first question is about who did what, and the answer is actually pretty simple:
Shikata: "Well, roughly speaking, GREZZO did most of the work on making the levels, creating enemies, dealing with the user interface and so on, while Nintendo took care of programming the main game systems and laying out the level concepts."
Since Nintendo is based in Kyoto, and Grezzo in Tokyo, the two teams had to find ways to communicate. They actually held daily videoconference, even on days when they didn't really have anything to discuss. In fact, they even had little celebrations via videoconferences after completing development milestones!
Later in the Miiting, Shikata talks a bit about Eiji Aonuma, and how different he was when he was playing the game vs. how he appears in the official videos:
"The thing is, when you see Mr Aonuma play the game in various video clips, he's always a perfect gentleman. But when he played it in the office, he'd obviously play with other Nintendo staff members, and whenever he got annoyed he'd shout stuff like "What're you doing?!", or "Don't go there, come here!""
Then, Hiromasa Shikata, Mikiharu Oiiwa and MariChan reveal their favorite costumes:
Shikata – Kokiri Clothes: makes it easy to hit opponents in the Coliseum, even if they try to dodge.
Ooiwa – Big Bomb Outfit: makes it easy to defeat opponents who are ahead of you, and you can even manage to hurt them with the blast if you miss them. However, there's a downside: you can hurt yourself.
MariChan – Fire Blazer: she just loves seeing her opponents run all over the place while on fire.
As for the costumes, since they're the same everywhere in the world, the developers had to make sure people would be able to understand them right away (while making sure they were not too detailed, so as to avoid them becoming confusing in-game). One of the outfits they struggled with the most is the black tights Princess Styla is wearing during most of the game.
Here's some concept-art:
Surprisingly enough, no costume was cut for the final release, but there are a few ideas that didn't make it:
Stinky Costume: it would have kept enemies at bay thanks to its smell
Kansai Outfit: it would have put all the situation reports in the Kansai dialect
Emperor's New Clothes: would have made your character naked to other players
Handsome Outfit: would have made you look handsome in pictures
There's a lot more over on Miiverse: click here to check out the full interview!
The major update for The Legend of Zelda: Tri Force Heroes (3DS) will be released on December 3rd (Decemberd 2nd in North America).