Taiko Drum Master: Dokodon! Mystery Adventure – First trailer, Ace Attorney + Kirby characters
Update
We just replaced the trailer below with the official version of the trailer.
***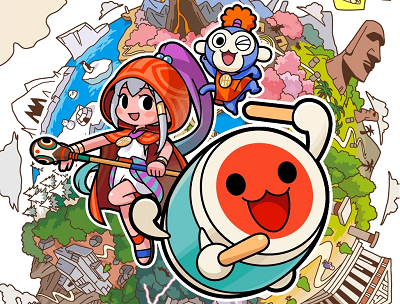 Today, during the latest livestream dedicated to the Taiko Drum Master series, Bandai-Namco revealed the very first trailer for Taiko Drum Master: Dokodon! Mystery Adventure (on Nintendo 3DS). It showcases the many elements detailed in previous reports, such as the story, characters, gameplay mechanics, and more. Click here and here for all the details!
Here's the trailer:
The trailer reminds us that the game will feature about 100 monsters, that you can add to your party. You can strengthen, and even fuse them to get stronger monsters. It confirms that the game will be playable in multiplayer, and is compatible with Download Play (1 copy of the game for 4 players). You can play time-attack mode with your friends, if you want.
Head after the break for the rest of this post!
Taiko Drum Master: Dokodon! Mystery Adventure will feature over 70 songs, including some from the following series/games/anime series:
Yo-kai Watch songs
One Piece
Doraemon
Pokémon XY&Z
Kirby
The trailer also shows some of the guest characters you will be able to get in your party:
Kirby and King Dedede from the Kirby series
Jibanyan (+ Yo-kai costumes) from the Yo-kai Watch series
Felynes from Monster Hunter Generations
Phoenix Wright from the Ace Attorney series
Hakurei Reimu, Kirisame Marisa, Izayoi Sakura from Touhou Project
Rakitama from Kami-sama Minarai: Himitsu no Kokotama
Korosensei from Assassination Classroom
Also, all the songs for the early purchase campaign have also been revealed:
from June 16th: [J-Pop] "Umi no Koe", from the Santarou series (commercial song)
from July: [Variety] PERFECT HUMAN
from August: Sekai Fushigi Hakken – Opening Theme (TV show)
Also, players who pick up the game at launch will get the Namco pack with 5 additional songs for free.
Finally, Bandai-Namco revealed the design of the download card, which confirms the game will need a maximum of 512MB of free space.  It will come with a QR Code to unlock the Namco medley. Also, various retailers will offer a code to unlock a special monster in-game.
Taiko Drum Master: Atsumete ☆ Tomodachi Dai Sakusen!
Here's some screenshots / artworks for the latest batch of (free) DLC songs and clothing items:
Taiko Drum Master: Dokodon! Mystery Adventure (3DS) comes out on June 16th in Japan.
Source: Famitsu