Story of Seasons coming out on December 31st in Europe
Update
Nintendo just announced that Story of Seasons would actually come out on December 31st in Europe, one week and day earlier than initially planned (January 8th). Unfortunately, we don't know yet if the release date for Australia was also changed, or if it's still January 9th.
Also, make sure to check out the screenshots we added earlier this week!
***
Back in September, Nintendo announced that it would publish Story of Seasons in Europe in Q1 2016. For those who still don't know, this is the latest entry in the original Harvest Moon series, now known as Story of Season outside Japan. It was released earlier this year in North America (in March), and will be available in Europe in a couple of weeks.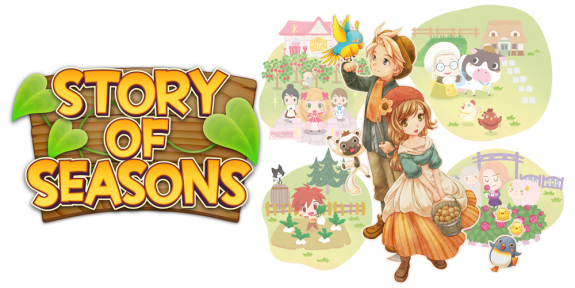 Earlier today, Nintendo sent a press release to announce that the game would come out on January 8th in Europe (and the following day in Australia/New Zealand, as usual). It also reminds us of the main elements of the game, starting with the basics: you can chose which crops to grow and animals to raise.
One you've progressed far enough in the game, you can take part in annual competitions in town, make your own furniture, but also explore a safari. The game even has online functionalities: you can go visit your friends' farms, help them with harvesting, exchange gifts, and more.
Of course, you can customise your characters with various outfits, which will be necessary to woo your bachelor / bachelorette of choice. What's more, some accessories can even grant some bonuses such as increased stamina, or increased selling price for your crops.
As a farmer, you can bring your produce to the Trade Depot in order to trade it with farmers from exotic locations. Obviously, the traders aren't always looking for the same thing, so you will have to think carefully about when to sell your produce, in order to make as much money as possible.
What's more, if you trade products (such as fertiliser, fish and milk), while buying items like silk and blueprints (which are used to create new tools), you can attract even more traders to town, and maximise your profits. Being a good farmer also requires you to be a crafty businessman, it seems!
Finally, Nintendo mentions the Mystery Seeds, which allow you to grow some very special crops. Those look like famous Nintendo Items:
Super Mushroom (immediately grow all nearby plants)
Super Star (keep your crops fresh for up to thirty days, and make them more valuable)
Fire Flower (get rid of any wilted crops)
Here's some screenshots for the game:
Story of Seasons (3DS) comes out on January 8th in Europe.
Source: Nintendo