Splatoon: Iwata Asks, Squid Girl collaborations, new weapon video and more
Iwata Asks
Earlier today, the long-awaited Iwata Asks interview was finally published! You can read it in English on Nintendo's of America's website.

The following people are interviewed:
– Shintaro Sato (Program Director)
– Seita Inoue (Art Director)
– Tsubasa Sakaguchi (Director)
– Yusuke Amano (Director)
– Hisashi Nogami (Producer)
Here's the various topics tackled in this interview:
– It Started With Tofu
– Then Rabbits
– Got To Be Squids
– Gaining Momentum
– This Depth Has No End
– Spell It Out In Black And White
Here's some of the design documents revealed in this Iwata Asks:
Splatoon X Squid Girl collaboration
Yesterday, we learned from a magazine scan that there would be an official Ika Musume (Squid Girl in English) X Splatoon collaboration, with illustrations drawn by Masahiro Anbe (author of the original Squid Girl manga).
It turns out that the scan was from Weekly Shounen Champion, and it's definitely not a coincidence… after all, it's in that very magazine that the Squid Girl manga is published! The illustration will be published in the next issue, which is coming out on May 28th.
But that's not all: Famitsu announced today that it would also have special Squid Girl X Splatoon collaboration illustrations in its next issue, which is also coming out on May 28th. The best part? The two magazines will have different illustrations!
Source: Famitsu
Squid Research Lab
Today, the Squid Research Lab posted only one message (so far) today. They showed a picture, which is quite obviously a countdown for the Japanese release (May 28th): only 7 days to go!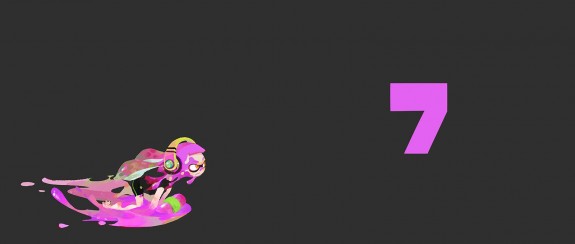 They also published a new weapon video, showcasing the Splatter Shot Jr. set of weapons:
Splatoon (Wii U) comes out on May 28th in Japan, and May 29th in Europe and North America. Don't forget: the last play session for the Splatoon: Global Testire demo will take place this week-end!
Source: Squid Research Lab