Splatoon: details and schedule for NicoNico Choukaigi (Squid Sisters live, more)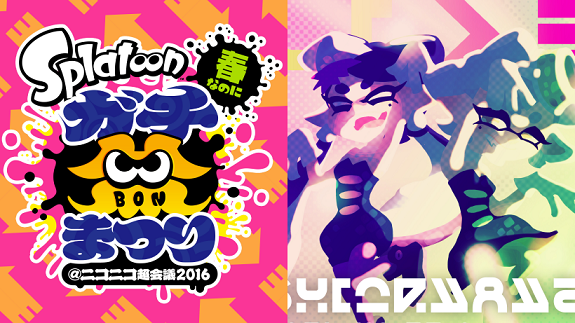 A few weeks ago, Nintendo announced that Splatoon would be at the Nico Nico Choukaigi event, which takes place on April 29th and April 30th in Japan. That's where the second live performance by the Squid Sisters will take place, along with tournaments and dancing sessions (as part of the Gachibon Festival).
Today, Nintendo finally revealed the schedule for NicoNico Choukaigi, which is as follows (Japan time):
Day 1 (April 29th)
11AM to 3PM: Gachibon Match (tournaments)
3.15PM to 3.50PM: Squid Sisters Live
4PM to 5.30PM: Gachibon Festival (dancing)
Livestream: NicoNico
Day 2 (April 30th)
11AM to 3.30PM: Gachibon Match (tournaments)
3.30PM to 4.30PM: Gachibon Festival (dancing)
Livestream: NicoNico
For those of you who are only interested in the Squid Sisters live, it will take place on April 29th at:
Europe: 8.15AM
UK: 7.15AM
North America (EST): 2.15AM
North America (PST): 11.15PM (April 28th)
Just like last time, Nintendo should have an official recording uploaded on YouTube in the days following the live performance (since the Golden Week starts on April 29th, we might have to wait a bit longer).
On the Nintendo / Splatoon booth, there will be some goodies on sale, including those t-shirts:
As mentioned previously, people who want to take part in the Gachibon Matches will be selected via lottery. On the booth, armbands will be distributed: on those, there's a number/QR code which will be used for the lottery. There will be several play sessions. A special Splatoon fan will be distributed.
As for the matches themselves, they will follow the rules listed on the pic below. Players will only be able to chose among a specific set of weapons / abilities, and they will have 1 minute to chose. Nintendo revealed the list of weapons / abilities (to be found below), which will be available in the same order in-game: that way, players can memorise in advance what they're going to pick.
Here's a video explaining how it all works:
Players who participate will receivea special Splatoon towel (pictured above). Also, some members of the Squid Research Lab will participate, along with some special guests.
Head after the break for the rest of this post!
Finally, Nintendo revealed the choregraphy for the dance of the Gachibon Festival. Nintendo encourages everyone to come dance, and which is why the company uploaded a video detailing the choregraphy. That way, visitors will be able to get used to the dance, and enjoy the event more.
Source: Nintendo