Splatoon: another live performance for the Squid Sisters, at NicoNico Choukaigi
Update
Today, the official website for the NicoNico Choukagi event was updated. The page for the music stage reveals that the second live performance of the Squid Sisters will take place on the first day (April 29th). Unfortunately, we still don't know the exact time yet.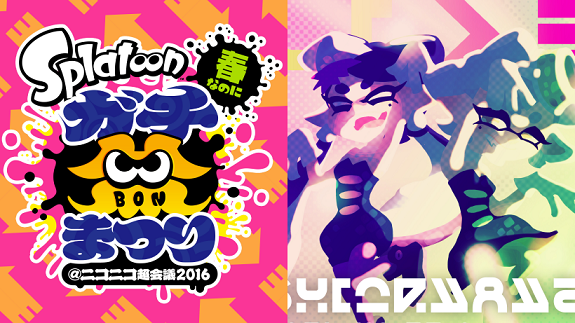 During the Game Party Japan 2016, Nintendo had several Splatoon-related events for visitors. The first one was the finals of the Splatoon Koshien 2016 (with a very moved Nogami making a speech at the very end), and the second one was a live performance of the Squid Sisters. It was done using a hologram, similar to the ones used for Hatsune Miku concerts.
If you liked that performance, good news: Nintendo announced that there would be another one next month, during the NicoNico Choukagi (taking place on April 29th and 30th). Unfortunately, that's all we know right now, and further details (when the concert will take place, livestream, etc.) will be announced at a later date.
Here's the poster for the concert:
In Japan, the Obon Festival takes place across the country in August (except in some regions, where it takes places in July instead). And it looks like in the Inkling World, there's a similar festival in April, called Gachibon (Gachi comes from Gachi-Matchi -the Japanese name of Ranked Battles- and "bon" comes from Obon).
On Nintendo's booth, visitors will be able to take part in the Gachibon Festival celebrations by… dancing! Of course, they will also have the opportunity to take part in a tournament (Gachibon Matches), but since Nintendo expects a lot of visitors, participants will be selected via a lottery system.

The NicoNico Choukaigi conference takes place on April 29th and 30th. The schedule for livestreams will be announced at a later date.
Source: Nintendo