Senran Kagura 2 out on Sept. 15th in North America; trailer + screens, eShop sale for Senran Kagura Burst

Earlier today, Marvelous Europe uploaded an unboxing video for the Senran Kagura 2: Deep Crimson Limited Editions, and revealed the planning for the additional content. And now, it's XSEED's turn to make an announcement: the game will come out on September 15th in North America, more than two weeks after Europe.
As mentionned previously, Senran Kagura 2: Deep Crimson will be available at retail and on the Nintendo eShop in North America. The price will be:
$39.99 for the regular edition (retail + eShop)
$49.99 for the Double D edition, with a soundtrack album (60 tracks, 2CD) (retail only)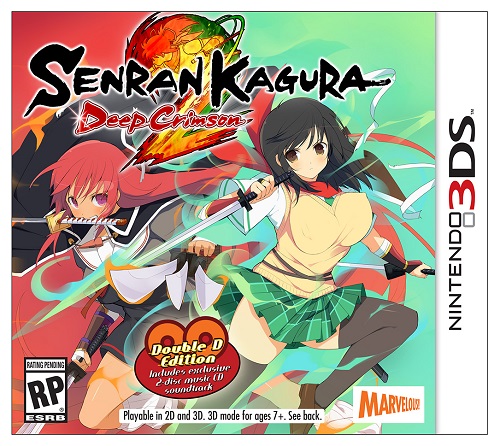 To celebrate this occasion, XSEED has prepared a brand new trailer for the game and some new screenshots: you will find them both below. But first, an announcement for players who are yet to play Senran Kagura Burst: the game is on sale on the Nintendo eShop starting today. Until September 14th, the game will only cost $19.99!
Just like in Europe, you will be able to get the Murasame DLC for free if you have a save file for Senran Kagura Burst on your Nintendo 3DS. Therefore, this Nintendo eShop sale is the perfect opportunity to not only discover the series, but also to save money at the same time.
Here's the latest trailer for Senran Kagura 2: Deep Crimson, on Nintendo 3DS, along with some new screenshots
Senran Kagura 2: Deep Crimson (3DS) comes out on August 27th in Europe, and September 15th in North America.
Source: XSEED
Via: Gematsu