Pokémon news (August 21st) – Pokémon Shuffle: Groudon back for a week; more
Pokémon Shuffle
Starting today, the event stage for Groudon (in Pokémon Shuffle) is back for one week, until August 28th (6AM UTC). Next week, it's the stage for Rayquaza which will be back for one week, until September 4th (6AM UTC).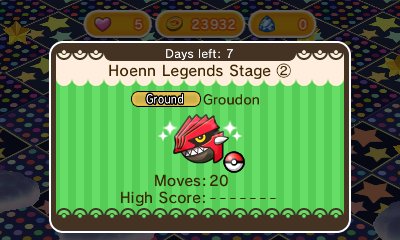 Source: Serebii
Pokémon Super Mystery Dungeon
In Japan, Amazon has a special version of Pokémon Super Mystery Dungeon on sale. It costs 5 076 Yen, and include the game and a set of 20 postcards and a postcard case (which allows you to display 2 postcards). For some reason, the design of the 20th card is not shown in the picture below.
Source: Amazon.co.jp
Via: Serebii
Pokkén Tournament
This week, a second trademark for Pokkén Tournament was registered in Europe, now mentionning NFC-enabled device and with the logo of the game. Unfortunately, it's hard to conclude anything based on this kind of trademark alone, so fans will definitely have to be more patient before finding if/when/how Pokkén Tournament will officially head outside Japan (that being said, we do know that locatests will/are being run in the United States).
Battle Competiton
Don't forget: battles for the Pikachu Cup started today!
Also, the entry gift for the CoroCoro Challenge (announced last week) was revealed: a Masterball.
Source: Serebii
Nintendo Anime Channel
On Monday, the first two episode of the Pokémon Advanced Challenge (from the Pokémon Advance series) were added to the Nintendo Anime Channel service in Europe!
Source: Serebii