Nintendo news (Feb. 20): Kirby Star Allies / Mario Kart Arcade GP VR / Splatoon 2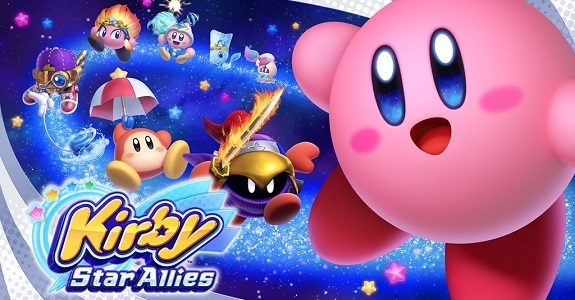 Today's Nintendo news: Kirby Star Allies @ Emerald City Comic Con, but also…
Mario Kart VR
Splatoon 2
WonderFes
Fire Emblem Heroes
Famitsu previews
Domino King x Yoshi's Island
Tool Assisted Speedrun
Kirby Star Allies @ Emerald City Comic Con
Yesterday, Nintendo confirmed that they would be at the Emerald City Comic Con, which takes place from March 1st to March 4th, in Seattle (Washington State Convention Center at 705 Pike St.). There will be some special events for Kirby Star Allies:
playable demo for Kirby Star Allies, with select Nintendo representatives brining Nintendo Switch consoles to people waiting in line, allowing them to try out the game in Handheld Mode;
Kirby-themed items will be distributed to people performing random act of kindness. Select Nintendo representatives will be walking around the Emerald City Comic Con, and if they spot people doing something nice (like picking up litter, holding the door for a stranger, etc.), they will go and give them Kirby-themed items.
Kirby Star Allies (Switch) comes out on March 16th, worldwide.
Source: Nintendo PR
Mario Kart Arcade GP VR
Remember the Mario Kart Arcade GP VR game we heard about several months ago? Well, it's actually headed to the UK later this year, thanks to VR Zone Portal. More details will be shared later this year.
Source: VR Zone Portal (Facebook)
Splatoon 2
Yesterday, Nintendo announced that the Grand Finale of the Splatoon European Championship would take place on March 31st, at Polymanga in Switzerland. On the same day (just before the tournament, in fact), Off the Hook will hold their second live performance at the Stravinski Hall – Montreux Music & Convention Center (2m2c).
Unfortunately, we don't know if either events will be livestreamed, or even recorded yet, but Nintendo will share more details about both soon. Stay tuned!
Source: Nintendo (Twitter)
WonderFes
Here's pictures of various Nintendo-related figures revealed and/or showcased at the latest WonderFes event in Japan, this week-end:
Source: Gamer
Fire Emblem Heroes
Here's a Tips & Tricks video for Fire Emblem Heroes, and more precisely the Grand Hero Battle feat. Xander!
Famitsu previews
This week, the following Nintendo game(s) will be featured in Famitsu magazine:
Nintendo Labo (Nintendo Switch, out on April 20th in Japan and North America and April 27th in Europe)
The latest issue of Famitsu magazine comes out on Thursday in Japan (Wednesday morning/afternoon in North America and Europe respectively).
Domino King x Yoshi's Island
Here's the latest video from the Domino King, which happens to be about Yoshi's Island!
Tool Assisted Speedrun
Here's the latest Tool Assisted Speedrun video for Nintendo games:
Donkey Kong Country 3: Dixie Kong's Double Trouble! (SNES) "105%" by Dooty, El[…] in 1:41:39.8