Nintendo Investor Briefing: some details about the multi-device membership service
Back when the partnership with DeNA was announced, Satoru Iwata made it clear that the mobile games using Nintendo's IPs wasn't a sign that Nintendo was ready to ditch dedicated gaming systems… quite the opposite. He even confirmed that the company was working on NX, a dedicated gaming system which will officially be revealed next year.
The reason Nitnendo finally decided to make mobile games is because they believe it will encourage more people to associate with Nintendo's IPs. After getting familiar with those, they will want to try out the "Premium experiences" on the dedicated gaming system from Nintendo.
But to realise that, they need a bridge to connect mobile platforms and the dedicated gaming systems, and that's exactly what the multi-device membership service is for. Developed jointly with DeNA, it will emcompass various platforms: Wii U, Nintendo 3DS, NX, PC, smartphones, and more.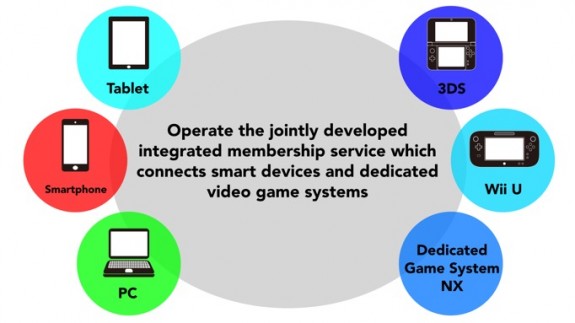 Unfortunately, we will have to wait before we get more details about this membership service. But Satoru Iwata did explain the central idea for it: allowing users to access various devices using only one ID. Of course, there will be advantages for consumers who use the ID accross multiple devices.
Satoru Iwata explained that right now, users have to use their Club Nintendo account to use various services. With the new membership service, they will simply have to log in using their ID, and they will have access to various services based on their previous purchases, gameplay records, and even an improved version of the previous reward program (Club Nintendo).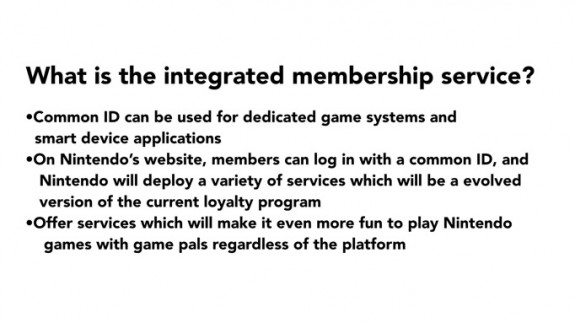 Source: Nintendo