Monster Hunter X: official video for the Nyanter Mode, gameplay footage
On Wednesday, Capcom uploaded a rather long video (over 25 minutes) for Monster Hunter X, featuring Shintaro Kojima (Producer) and Inoue Satoshi (a Japanese comedian, who is a huge fan of Monster Hunter). It showcases the various Hunting Styles and Hunting Skills, and was a nice complement to the week of videos for the Weapons and Hunting Styles.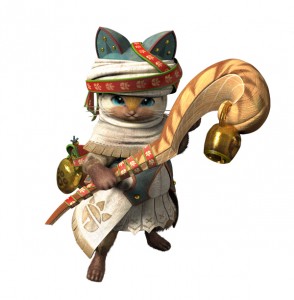 And today, Capcom uploaded another (shorter) video: it shows Shintaro Kojima surprising Inoue Satoshi with the Nyanter Mode, revealed yesterday in the second trailer for the game (and some screenshots). They then proceeded to showcase this mode, which allows you to play as a Felyne instead of a regular, human hunter.
In the video, Shintaro Kojima confirms that you can take on pretty much any quest as a Felyne, and Nyanter Mode isn't just for a couple of special quests for example. The video shows Inoue Satoshi running around the village, talking to the villagers as he would as a human hunter.
After that, they go on a quest, which allows us to see how you attack in Nyanter Mode. You have two weapons: a staff (the main weapon), and a boomerang.
As a Felyne, you can hide and move underground (just like a mole), which is pretty handy if you're in a tight spot during a battle. During the fight against the Raizex (one of the four new main monsters), Inoue Satoshi uses a trampoline as an item, in order to jump on the monster's back and attack.
Here's the official video for the Nyanter Mode:
Head after the break for another gameplay video, from 4Gamer.net this time around!
Monster Hunter X (3DS) comes out on November 28th in Japan.