Monster Hunter Stories: second trailer, screenshots, website update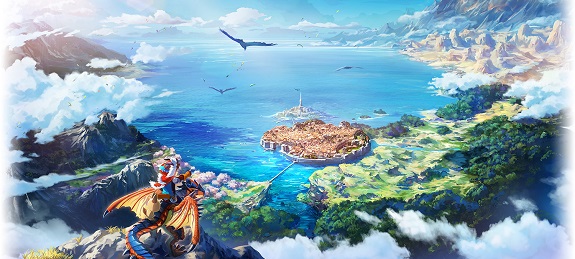 This week, Monster Hunter Stories is featured in Famitsu magazine. Before that, the game was showcased at the first event of the Monster Hunter Festa 2016. And today, Capcom finally updated the official website with a brand new trailer (to be found below), some pictures, and more!
We get some tidbits about the story, which starts with the protagonist, Lilia, and Cheval (three childhood friends) finding a mysterious egg in the forest. After that, the three friends will go their separate way, with Cheval deciding to become a Rider for different reasons than the protagonist. Said protagonist will then go on a journey around the world, accompanied by Nabiru (a rather peculiar Felyne).
Next, we have a new character (Ribelt).
There's also a list of Otomon: special monsters you can get from eggs, ride on, and battle with. The following monsters are showcased on the official website:
Velocidrome (from Monster Hunter)
Arzuros (from Monster Hunter Portable 3rd)
Lagombi (from Monster Hunter Portable 3rd)
Yian Kut-Ku (from Monster Hunter)
Kongalala (from Monster Hunter 2)
Khezu (from Monster Hunter)
Rathian (from Monster Hunter)
Tigrex (from Monster Hunter Freedom 2)
Diablos (from Monster Hunter)
Rathalos (from Monster Hunter)
As for the battle system of Monster Hunter Stories, it's based on three commands: Force, Speed, and Technique. You fight alongside your Otomon, and you can even launch special double-attacks for maximum damage. What's more, the game has special attacks called "Kizuna Attacks" (Kizuna meaning "Bond" in Japanese), with the protagonist riding his/her monster. It uses the Kizuna stone, that the protagonist receives after passing the trial to become a Rider.
It looks like there's one Kizuna Attack for each monster:
Grand Spin (Lagombi)
Blos Cyclone (Diablos)
Sky High Fall (Rathalos)
Next, we have some pictures for two of the villages/cities of the game:
Rider Village (where the protagonist is from);
Hunter Village: a town by the sea, where Hunters live. There, you can find various buildings, markets and facilities, including the Guild (ran by a Guild Master).
Finally, the website showcases character customisation, announced this week-end during a stage show, at the first event of the Monster Hunter Festa 2016. Just like in mainline Monster Hunter games, you will be able to equip various armours and weapons. What's more, there's a male / female variant for each armour!
Here's the second trailer for Monster Hunter Stories:
Next, here's the screenshots:
Head after the break for one more video!
Finally, here's a recording of all the stage shows from the first event of the Monster Hunter Festa 2016 (Monster Hunter Stories segment starts at 2h10):
Monster Hunter Stories (3DS) comes out this year in Japan.
Source: 4Gamer.net