Monster Hunter Generations: Street Fighter collab. in Japan, 3.3m units shipped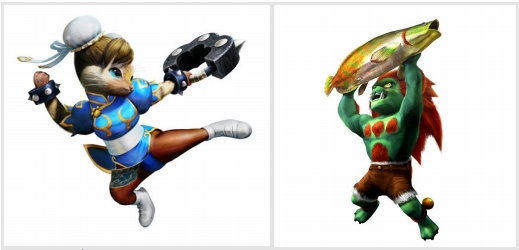 Did you like the Street Fighter collaboration in Monster Hunter 4 Ultimate? If yes, good news: Capcom is bringing it back in Monster Hunter Generations (known as Monster Hunter X in Japan). Today, Capcom announced that it would be available at the many 7-Eleven stores from May 20th (9AM JST) to June 30th (8.59AM JST), via their hotspots.
This collaboration gives you access to a special HR4 quest. If you manage to beat it, you will get the necessary materials for a Chun-Li and Blanka armour for your Palico.
Here's two artworks/renders:
Naturally, there's little doubt this collaboration quest will also make it to Europe and North America, later this year (but more details will be announced at a later date).
And today, Capcom also revealed its financial results for Fiscal Year 2015-16 (Ended March 31st 2016). They revealed that total shipments for Monster Hunter Generations have topped 3.3 million units, which means 100 000 additional units were shipped between January 1st and March 31st. (If you're wondering: yes, that number includes digital copies sold via the Nintendo eShop, download cards, etc.).
Quick reminder: Capcom expected to ship "only" 2.5 million units by March 31st 2016, and so it ended up shipping 800 000 units more. If Monster Hunter Generations end up selling as much as Monster Hunter 4 Ultimate in the West (over 1 million units), it will become the best-selling entry on Nintendo 3DS (both versions of Monster Hunter 4 Ultimate are currently at ~4.1 million units).
Monster Hunter Generations (3DS) comes out this Summer in Europe and North America.
Source: 4Gamer.net / Capcom