Miiverse update (May 20th): Activity Feed improvements
It's been quite a while since Nintendo last updated Miiverse: it was on February 19th, actually (over 3 months ago)! But today, Nintendo's very own social network received another update, which is meant to improve the Activity Feed. This is actually something Miiverse users have been requesting for quite a while!
From now on, the Activity Feed will only load the most recent post of each of your friends / users you follow. This change brings two improvements:
– the Activity Feed now loads slightly faster;
– the Activity Feed does no regurgitate old posts anymore, and you only get the latest posts from now on.
There's also an additional change not documented: in the Activity Feed, you now have a link at the bottom of each post. It's basically a shortcut to the poster's list of posts, which means you don't have to go through their profile in order to find it.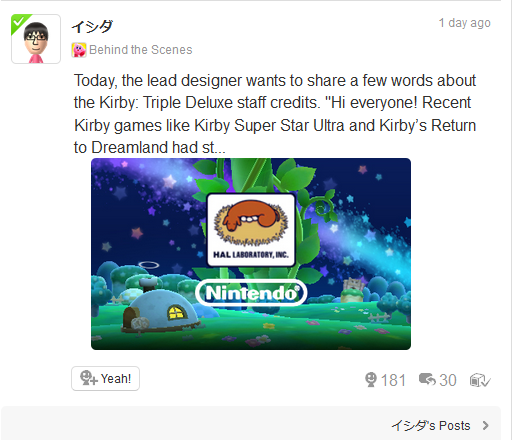 Here's the official announcement in English:
Hi Miiverse friends! There is a new update for Miiverse today.

Your Activity Feed for the Wii U, Nintendo 3DS and web versions will now show only one post per friend or user that you are following, and that will be their latest post. This will improve the display speed! If you touch the arrow on the right, next to the post (Wii U) or below the post (Nintendo 3DS), you will be able to see all of the posts made by that user.

Let me know what you think of the new update! :)
Those changes are for all versions of Miiverse: web, Wii U and Nintendo 3DS.
Source: Nintendo
Thanks StreetsAhead for the help with translation.