Kirby music: 3 albums now available on digital music storefronts (iTunes, Amazon, Spotify, and more)
Over the past few months, many Nintendo games have received an official release on various formats, including in Europe and North America (instead of just Japan). A far cry from the dark times when the only way to get them was via super limited releases on Club Nintendo (and pretty often, only in Japan)… And today, HAL Laboratory released not one, but three Kirby music albums on various digital storefronts!
The three Kirby music albums are:
Kirby: Planet Robobot Original Soundtrack
Kirby Memorial Arrangements
Kirby 25th Anniversary Orchestra Concert
Check out below for more details about each release (including full tracklist)!
Kirby Planet Robobot Original Soundtrack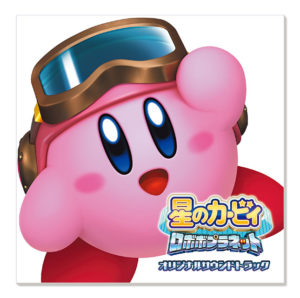 Available on:
Tracklist:
Bright Spinning Planet (1:09)
First Contact (1:38)
Magical Planet Popstar (0.46)
Patched Plains (0:38)
Venturing into the Mechanized World (1:36)
Re: Green Greens (1:51)
Metal N. Vasion (1:08)
Pink Ball Activate! (1:55)
Steel Beat (1:41)
Green Laboratory (2:11)
Invincible (0:19)
Kirby Dance (short version) (0:05)
Clouds Park (0:54)
Resolution Road (0:44)
Yearning for Yellow (Vroom!) (1:49)
Flight of Azure (2:34)
Residential Laboratory (1:57)
Gorgeous-Go-Round (2:43)
Overload Ocean (0:53)
Bountiful Star (2:02)
Rhythm Code (1:37)
Industrial Laboratory (2:12)
Time for Dessert! (1:25)
Submarine Suburbs (3:06)
Gigabyte Grounds (1:05)
Dried-up Sea (2:32)
Core Kabula Surprise! (1:44)
Studying the Power Plant (2:54)
Done In (0:04)
Game Over (1:38)
Mother's Intuition (0:32)
Loading… (0:33)
Haltmann Works Co. Theme Song (1:25)
VS. The Wicked Company (2:00)
Let's Go Home (0:20)
Kirby Dance (full version) (0:10)
Toy Box (1:17)
Memorial Theatre (0:25)
Kirby 3D Rumble (0:56)
Green Greens (0:53)
VS. Mini Masher (1:35)
VS. Mega Masher (1:25)
Team Kirby Clash (1:31)
Time Beeeam! (0:17)
City Trial: Rowdy Charge Tank (Kirby Air Ride) (1:52)
Above the Clouds (Kirby 64: The Crystal Shards) (1:52)
VS. Chef Kawasaki (Kirby's Star Stacker) (0:58)
Halberd (Kirby's Epic Yarn) (1:42)
Spectacle Space (Kirby: Canvas Curse) (1:32)
Crowned:Ver.2 (Dedede's Drum Dash Deluxe) (2:00)
Pocket Diary (2:18)
Select a File! (1:18)
Rhythm Route (0:42)
Sky-High and Smitten (1:43)
Outlaw Driver (1:51)
Neon Laboratory (1:55)
Loud Locomotive (1:59)
Caught Me Singing (1:26)
Dedede's Tridimensional Cannon (2:25)
9.3 Billion in Anguish (0:15)
Secret Area: HAL Room (Dedede's Drum Dash Deluxe) (0:44)
Access Ark (0:45)
Working Sounds (0:29)
Haltmann Works Co. HQ (2:46)
Pristine Office March (2:36)
L86 (2:39)
Inner Struggle (1:25)
Loveless Command (0:24)
Crazy Rolling in Money (4:26)
Apocalyptic Reboot (0:39)
Final Takeoff (1:21)
VS. Star Dream (4:58)
Fatal Error (0:50)
Intermezzo Without a Leader (3:04)
Dirst Cry of a Newborn Star (0:16)
Vagrant Counting Song of Retrospection (3:07)
Pink Ball Revolution (1:42)
Shell Scream (0:30)
Planet Heart (1:37)
Memories (I'll Never Forget You) (3:51)
Return of Meta Knight (0:46)
Brothers in Arms (1:54)
You Lack Discipline (0:33)
StreetPass wins (Normal) (1:00)
StreetPass wins (True) (0:32)
Spinning Planet Complete (0:55)
Combat Evaluation Program (1:26)
Reproduction of Darkness (1:36)
Faded & Flower (2:40)
The Greatest Warrior In the Galaxy Ever (1:41)
Broken Heart (0:35)
Soul 0 System / Vagrant Keepsake of Oblivion (4:10)
Heartless Tears (0:48)
Well-fed Victory (0:34)
Homeland Restored (1:10)
Are You Sure? (0:30)
The Noble Haltmann: Final Recital (2:1)
Kirby Memorial Arrangements
Available on:
Tracklist:
Big Band Kirby (2:51)
Take Off! (2:36)
Sleeping Like a Baby (3:45)
Star Tumble (2:28)
Epic Yarn (3:04)
Driving Star (3:40)
The Apple Juice Song (3:02)
Happy Castle in the Grasslands (2:27)
Beyond the Forest and the Desert (4:10)
Across the Rainbow Bridge (2:37)
Eternal Dream (3:32)
I'll Never Forget You (4:56)
Kirby 25th Anniversary Orchestra Concert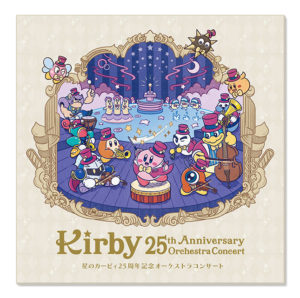 Available on:
Tracklist:
Kirby's 25th Anniversary: Grand Opening (Live) (2:10)
Kirby's Adventure Medley (Live) (3:40)
King Dedede & Meta Knight Medley (Live) (3:51)
Kirby's Dream Land 2 Animal Friends Medley (Live) (3:36)
Kirby's Dream Land 3 / Kirby 64: The Crystal Shards Medley (Live) (6:22)
Kirby Super Star Medley (Live) (6:14)
Kirby Air Ride Medley (Live) (4:48)
Kirby & The Amazing Mirror / Kirby: Squeak Squad Medley (Live) (3:19)
Kirby Ball Medley (Live) (5:20)
Kirby Triple Deluxe Medley (Live) (5:48)
Kirby: Planet Robobot Medley (Live) (4:15)
Kirby's Return to Dream Land Medley (Live) (5:43)
A New Wind for Tomorrow (Live) (2:08)
Milky Way Wishes: Staff Credits (Live) (2:47)
Source: HAL Laboratory PR