Kirby: Battle Royale – Software updates (latest: Ver. 3.0)
On this page, you will find all there is to know about the Software updates for Kirby: Battle Royale on Nintendo 3DS (originally released on November 3rd 2017 in Europe, November 30th 2017 in Japan, and January 19th 2018 in North America).
How to download updates for Kirby: Battle Royale on Nintendo 3DS?
To download updates for the game manually, you can choose one the following options
while connected to the internet, launch Kirby: Battle Royale from the Home Menu. You should get a prompt when doing so: simply follow the instructions displayed on the screen;
go to the Nintendo eShop, and search for Kirby: Battle Royale. Select the update, and download it;
use the option on the Nintendo eShop settings page.
To check that you have the latest version, simply launch the game. The version number is displayed in the top right corner of the bottom screen: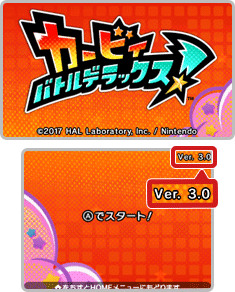 Kirby: Battle Royale – Ver. 3.0
Release date: February 1st 2018 (North America) / February 2nd 2018 (Europe, Japan)
File size: 986 blocks / 123.25MB
Patch notes:
Added Kirby's Sleep Copy Ability.
Adjusted balance of Copy Ability strengths.
Several adjustments made to enhance gameplay.
In Online Battle, a Battle Arena match will be terminated if it is taking unusually long due to attacks focused on one player. This will end as an incomplete game that won't affect Ranking Points.
Additional notes: the update is required in order to keep playing the game online.
Official website: Nintendo
Kirby: Battle Royale – Ver. 2.1
Release date: December 27th 2017 (Europe, Japan) / January 19th 2018 (North America)
File size: 941 blocks / 117MB
Patch notes:
Coming soon.
Adjusted the amount of Rank Points you get in Net Battles (via the internet). To be more precise, the developers have made it easier for you to earn those points;
When the game ends because your opponent disconnected during a Net Battle, you now get more Rank Points;
Fixed a glitch that would sometime make the game stop when the rocket takes off in Rocket Rumble.
Additional notes: the update is required in order to keep playing the game online.
Official website: Nintendo
Kirby: Battle Royale – Ver. 2.0
Release date: December 13th 2017 (Europe, Japan)
File size: 942 blocks / 117.75MB
Patch notes:
Adds the Mirror Copy Ability
Introduces additional enhancements to improve the user's experience and enjoyment
adds the Mirror Copy Ability
Additional notes: this update adds the Mirror Copy Ability, which won the Kirby Copy Ability Global Poll. A second Copy Ability will be added next year, via another Software update: the winner of the second poll. Click here for more details about that! Unfortunately, it's not clear whether the North American version of the game (which launches after the first update) will include the Mirror Copy Ability from the getgo or not. Also, if you download this update, you will no longer be able to play via local wireless with players still on Ver. 1.0. The update is mandatory to keep using the online features.
Official website: Nintendo