Japanese news (June 11) – Mario Hanafuda Workshop / Nintendo Badge Arcade
Today's Japanese news:
Mario Hanafuda Workshop
Nintendo Badge Arcade
Splatoon
Monster Hunter X
Mega Man Battle Network
Kouenji Joshi Soccer 3
Mario Hanafuda Workshop
Twice per week (on Monday and Thursday), some workshops are held at the NicoNico headquarters in Japan, allowing participants to learn about various playing card games from instructors and famous players. And next week, there will be a special workshop for Mario Hanafuda. Employees from Nintendo will come in order to teach players about Hanafuda (such as how to play it), and more.
If you happen to live in Japan, and near the NicoNico headquarters (in Tokyo), you can click here to learn more about this event (which will be free).
Nintendo Badge Arcade
Today, Nintendo added 12 panels of Pokémon Pixel Series badges: you can find pics of them all by clicking here!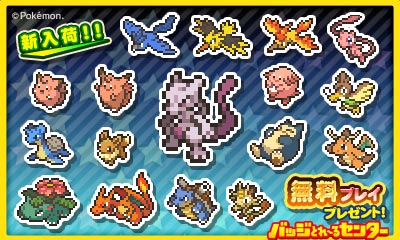 Source: Nintendo
Head after the break for the rest of this post!
Splatoon
Here's pictures of various Splatoon goodies that fans can try to win at the many 7-Eleven stores across Japan:
Source: Squid Research Lab
Monster Hunter X
Today, some new Event Quests went live for Monster Hunter X in Japan (including those for the Nintendo collaborations). Here's some screenshots for them, with two for Event Quests coming next week:
Source: Gamer.ne.jp
Mega Man Battle Network
Here's the cover of the Mega Man Battle Network Arrange Best Track and Mega Man Battle Network SoundBOX albums:
You can listen to sample of the tracks from the first album on this page.
Kouenji Joshi Soccer 3
Here's some gameplay footage for Kouenji Joshi Soccer 3, coming out next week (on June 16th) in Japan, on the Nintendo 3DS: