[Japan] Nintendo eShop line-up (March 16th) – Metroid: Other M
This week, the line-up for the Nintendo eShop in Japan is pretty lackluster: there simply isn't a single new downloadable title, just the usual Virtual Console titles and retail games! This is most definitely due to My Nintendo launching on March 17th: even Metroid: Other M didn't go live until Thursday (instead of Wednesday, the usual Nintendo eShop update day in Japan).
Bolded are games we recommend.
Wii U
Pokkén Tournament (The Pokémon Company): 7 344 Yen
Metroid: Other M (Nintendo, Wii Download on Wii U): 2 700 Yen
Wii U Virtual Console
Nintendo 3DS
My Nintendo Picross: The Legend of Zelda: Twilight Princess (Nintendo): 1 000 Platinum coins [My Nintendo, available until October 1st]
WarioWare: Touched! (Nintendo, Nintendo DS): 1,000 Platinum coins) [My Nintendo, available until July 1st]
Nintendo 3DS Themes
Nintendo Badge Arcade
This week, Nintendo added the following:
Pixel Suit Mario badges
Animal Crossing badges
Pokémon badges
Pokémon Easter Egg badges
Retro Super Mario Bros. theme (if you spend 180 Yen)
2 free tries
Nintendo 3DS Sales
The following games are on sale until March 30th:
Q (Liica): 490 Yen (instead of 700 Yen)
Oukoku no Douguya-san (PUMO): 560 Yen (instead of 800 Yen)
Pinch50 Renpatsu! (Game Studio): 350 Yen (instead of 500 Yen)
Minna de Mamotte Kishi: Hime no Tokimemi Rhapsody (Ancient): 600 Yen (instead of 864 Yen)
Majin Shoujou – CHRONICLE 2D Act / The Legend of Dark Witch (Flyhigh Works): 280 Yen (instead of 400 Yen)
Fushigi no Kuni no Bouken Sakaba (Raideon Japan): 450 Yen (instead of 648 Yen)
Denpa Ningen no RPG 3 / The Denpa Men 3 (Genius Sonority): 700 Yen (instead of 1 000 Yen)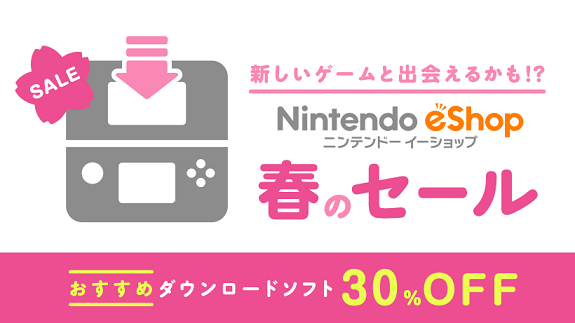 Source: Nintendo (1 / 2)