Japan – Muramasa: The Demon Blade and Trauma Team coming out next month as Wii U Downloads
During the Nintendo Direct in May, Nintendo announced the latest batch of Wii games to be added to the Wii U eShop in Japan. One of them is Trauma Team (called Hospital: 6-nin no Ishi in Japan), and it was supposed to come out this month… quite obviously, this didn't happen, and instead, the game will get its digital release on Wii U next month.
But Hospital: 6-nin no Ishi (Trauma Team) won't be the only Wii game getting a download version on Wii U, next month, as Oboro Muramasa (Muramasa: The Demon Blade) will also get one. Both will be released on August 19th in Japan, but we don't know if/when they will get a release outside Japan.
Here's the filesize for both games:
– Hospital: 6-nin no Ishi / Trauma Team (Atlus): 3.8GB, 2 700 Yen
– Oboro Muramasa / Muramasa: The Demon Blade (Marvelous): 0.9GB, 2 700 Yen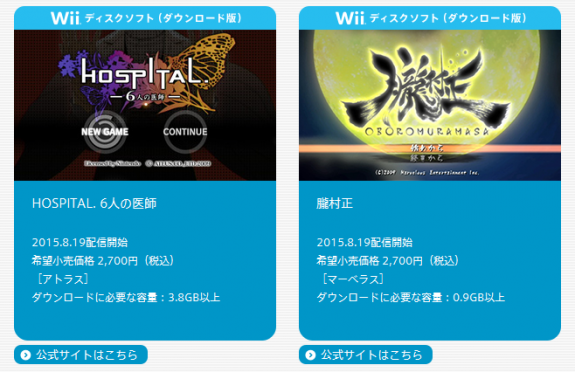 Source: Nintendo