Etrian Odyssey 2 Untold: launch trailer, first batch of (free) DLC available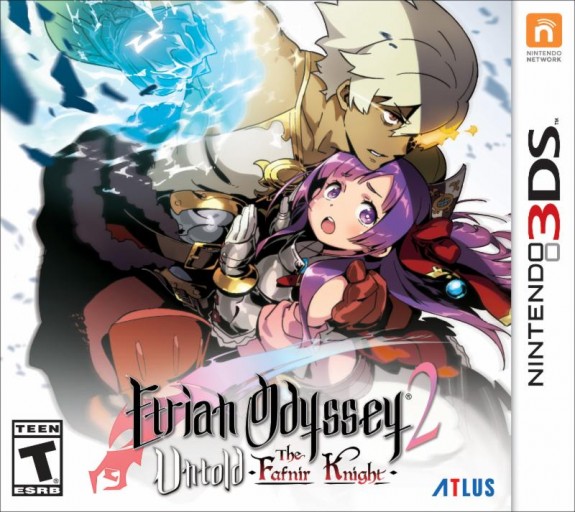 On Tuesday, the Nintendo 3DS remake of Etrian Odyssey 2 came out in North America. Called Etrian Odyssey Untold 2: The Fafnir Knight, the game also offers the choice between Story Mode (with fixed party and characters, cutscenes and more) and a Classic Mode for the purists.
To celebrate the game's launch, Atlus USA uploaded one last trailer for the game, that you can find below. They also reminded players that the first batch of DLC is now available, and some of it is actually free (for a limited time or permanently). Here's what's available right now:
August 4th
Yggdrasil Veteran: classics portraits for the various classes of the game, taken from the original Etrian Odyssey game. [Permanently free]
Highlander's Return: the Highlander class, which was the Protagonist's in Etrian Odyssey Untold: The Millenium Girl. It focuses on sacrificing a bit of health in order to buff party members and obliterate monsters. What's more, the Highlander Grimoire stones and the class itself is are also available within the Story mode. [Free through August 10th, then $0.99 cents/CA$1.49]
Wanted: Golden Sprout: a quest where you have to go find the Golden Sprout, which allows you get lots of money when you complete it. Regina (at the Café) can also make a dish from that sprout, which raises your chances of getting Premium Grimoire stones.  [$1.99/CA$2.49.]
Hidden Hot Springs!: apparently, there's a secret hot spring within the 3rd Stratum, and you have to find it. Completing this quest unlocks special portraits for Arianna and Chloe. [Free through August 10th, then $2.49/CA$3.49
Click here for the full DLC schedule!
Here's the launch trailer for Etrian Odyssey 2 Untold: The Fafnir Knight on Nintendo 3DS:
Etrian Odyssey 2 Untold: The Fafnir Knight (3DS) comes out on February 12th in Europe. If you live in North America, don't forget that you can download a demo version from the Nintendo eShop: you can even transfer your progress to the full game (Story Mode only).
Source: Atlus