Etrian Odyssey 2 Untold: trailer for Bertrand, demo on July 14th in North America
Update
We added the recording of Atlus USA livestream: you will find it below, after the break!
***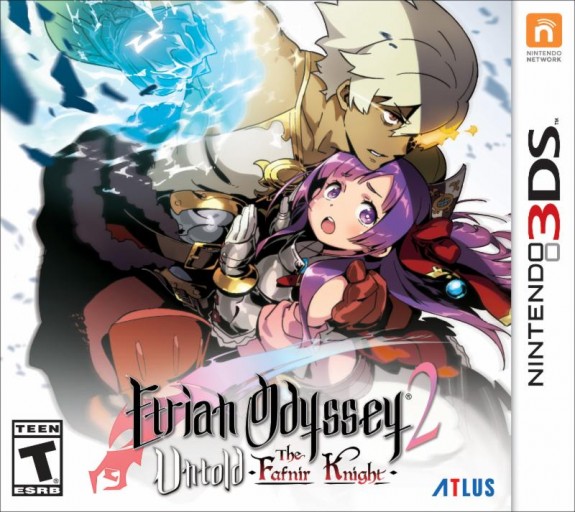 Yesterday evening, Atlus USA revealed a brand new trailer for Etrian Odyssey 2 Untold: The Fafnir Knight, which introduces Bertrand. He's a Protector, and what RPG players usually call a tank: a very crucial character who is tasked with protecting teammates from enemy attacks, generally by making sure enemies attack him/her.
A Protector's skills are really useful: one allows them to boost a line's defense, and they get it very early in the game. They can also protect themselves from elemental damage thanks to another skill. What's more, they can deal quite a bit of damage by provoking enemies (thanks to specific skills), before retaliating with shield attacks.
Finally, Protectors are not only good at taking damage, they can also heal themselves thanks to some very handy abilities! Overall, this class is fantastic for defense, and while they do have some offense-based skills, it's really in defense that they shine. In other words: don't try to turn them into beasts dealing massive damage, and let them focus on protecting the party instead.
In Etrian Odyssey 2 Untold: The Fafnir Knight's story mode, you get to meet Bertrand (accompanied by Chloe, the war magus) in the early areas of the Ginnungagap Ruins, and he'll travel with you, Arianna and Flavio.
Here's the trailer for Bertrand:
But that's not all: Atlus USA also confirmed that the game would get a demo version: it will be released on July 14th in North America. It allows you to try out the first floor of the Story Mode, and you can even transfer your data (and progress) to the full version of the game!
If you can't wait for the demo version and want to see the game in action before that, make sure to check out Atlus USA's livestream on Twitch (see the embed below, after the break!). It will start at:
– Europe: 1AM
– UK: 12AM
– North America (EDT): 7PM
– North America (PDT): 4PM
– Japan: 8AM
Here's the recording of the livestream:
Etrian Odyssey 2 Untold: The Fafnir Knight (3DS) comes out on August 4th in Japan, and February 12th in Europe.
Source: Atlus USA