Disney Art Academy: more details and screens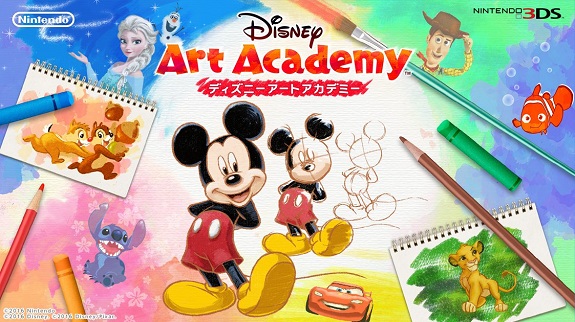 Today, Famitsu shared more details and screenshots for Disney Art Academy. On the main menu, you have three options:
Lessons: 40 lessons to learn how to draw various Disney characters, but also drawing techniques, and how to use certain tools. The teacher guides you step by step, and the difficulty of the lessons increase progressively: you start with basic tasks (such as colouring), and you end up drawing on your own. During those lessons, the teacher also gives you some useful advice. The goal of those lessons is not only to teach you to draw Disney characters, they will also allow you to learn actual drawing techniques.
Free paint: a mode where you can draw whatever you want, using the tools at your disposals. You can draw on your own, or use a model (there's 80 of them in the game, unlocked as you progress through the lessons).
Club House: you can take a look at your drawings, but also save them to your SD Card (resolution:

640 × 480

)
Next, we have some details about the tools, including the Colour Palette: during a lesson, the colours you need are neatly aligned. However, you're free to add any colour you want on the palette. When drawing, you can set the thickness and depth of your lines, and more. You can also use three different layers.
You have various tools at your disposal: ink pen, sprays, marker pen, pastels, erasers, paint, magic pen, and many others. By completing the lessons, you also unlock new tools. About the magic pen, it allows you to add some stars to your drawing (to give a very "Disney-like" touch to your drawings), but not only. You can also add hearts, butterflies, and various other patterns. What's more, you can even adjust the size and colour of the patterns.
To make the most of your tools, you can use some shortcuts:
L: undo your previous action
R: repeat your previous action
X: switch your model
Y: switch between your tools / the eraser
+: zoom in and out
Finally, Famitsu mentions the various sharing features with:
internet (via Miiverse, Twitter, or Facebook)
local wireless: you can share drawings with other players. Using Download Play, you can even send trial lessons to players who don't own Disney Art Academy
export via SD card (as mentioned above)
Here's the latest batch of screenshots for Disney Art Academy (along with the download card, which shows the game will require around 512MB of free space on your SD Card):
Disney Art Academy (3DS) comes out on April 7th in Japan, May 13th in North America, and July 15th in Europe.
Source: Famitsu