Daily Briefs (Jan. 13) – Shovel Knight: possible sequel, Dungeon Hearts DX, more
Mario & Luigi: Paper Jam Bros.
Yesterday, Akira Ootani (Producer) posted a short message about Mario & Luigi: Paper Jam Bros. on Miiverse. Here it is:
Shovel Knight sequel
Last week, during the 8-4 podcast, Sean Velasco and David D'Angelo (from Yacht Club Games) explained that it would be silly for them not to make a sequel to Shovel Knight. However, it's not clear whether it will be in the vein of a NES game (like the original), or if it will be more like a SNES or Nintendo 64 game.
Right now, the team is focusing on creating additional content for Shovel Knight, so work on that mysterious sequel will have to wait a bit!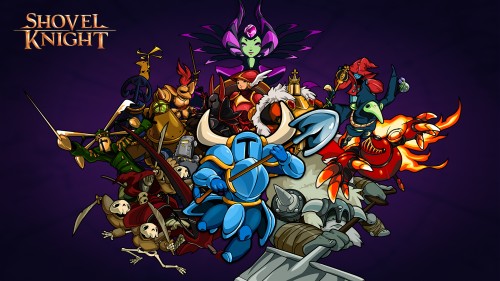 Via: Gamnesia
Dungeon Hearts DX
Dungeon Hearts is the title of a Strategy-Puzzle game that originally came out on Android and Steam, but it's now headed to Wii U as Dungeon Hearts DX. This Wii U version will offer a reworked interface, and will use a brand new game engine.
What's more, the developer also promises additional mini-games, Miiverse stamps, off-TV play, a hub area modeled after a pub, free updates after launch, new songs, and more. Dungeon Hearts DX might also get amiibo support, but nothing's been confirmed so far. The game should be released next month.
Click here if you want to support the developers!
Via: NintendoLife
Yo-kai Watch
Here's pictures of a Yo-kai Watch cushion, that you can use to rest your arms while typing on a keyboard. You will definitely get weird looks if you try to use it at work, but at least, your arms will be rested! It will costs 5 616 yen + taxes.
Source: Famitsu
Aikatsu! My No.1 Stage!
Today, Bandai-Namco added several new songs as paid DLC (200 Yen each). Here's the list:
Signalize!
Move On Now!
Wake up my music
Growing for a dream
prism spiral
Trap of Love
放課後ポニーテール
fashion check!
ヒラリ/ヒトリ/キラリ
アイドル活動(Ver.Rock)
KIRA☆Power
笑顔のSuncatcher
Sweet Sp!ce
フレンド
Let's アイカツ!
タルト・タタン
Good morning my dream
Du-Du-Wa DO IT!!
輝きのエチュード
薄紅デイトリッパー
Blooming●Blooming ※●は白抜きハート
Chica×Chica
And here's some screenshots for those additional songs:
Source: Famitsu