Daily Briefs (April 15) – Ubisoft @ E3 / Shin Megami Tensei Apocalypse
Today's Daily Briefs:
Ubisoft @ E3
Animal Crossing: Happy Home Designer
Shin Megami Tensei IV Apocalypse
Bravely Second: End Layer
Circle Ent.
Real Escape – Zero Escape
Kirby: Planet Robobot
Monster Hunter X / Generations
Mario & Sonic at the Rio 2016 Olympics
Fire Emblem 0
Ubisoft @ E3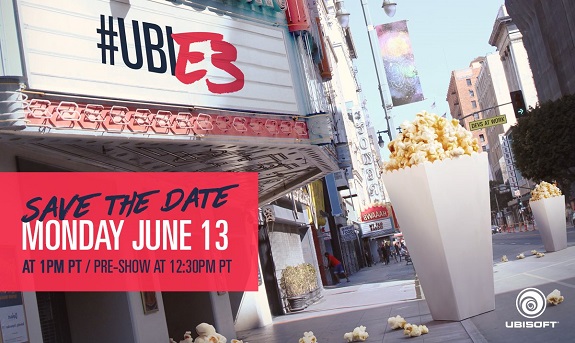 Last year, Nintendo platforms were pretty much ignored during Ubisoft's press conference (not too surprising given the current state of third-party support on Wii U and Nintendo 3DS from western developers, including Ubisoft). But this year might be different, as Nintendo is expected to unveil its NX platform within the next couple of months. Will we get to see games for the NX platforms during Ubisoft's press conference? Maybe!
The press conference will take place on:
Europe: June 13th, 10PM
UK: June 13th, 9PM
North America (EST): June 13th, 4PM
North America (PST): June 13th, 1PM
Japan: June 14th, 5AM
Source: Ubisoft
Animal Crossing: Happy Home Designer
If you live in the UK, you can get some convenience store items for Animal Crossing: Happy Home Designer via Nintendo Zone at GAME stores across the country:
[News] Filly is back in Nintendo Zone at @GAMEdigital until 31/05, bringing items to #ACHappyHome. pic.twitter.com/6Ihjm5CE6l

— Animal Crossing UK (@AC_Isabelle) April 15, 2016
Shin Megami Tensei IV Apocalypse
Today, Atlus announced that Shin Megami Tensei IV Final would be released this Summer in North America, as Shin Megami Tensei IV Apocalyspe. The game is now available for pre-order on Amazon.com!
Yesterday, Atlus released the latest batch of DLC for the second wave of additional content for Shin Megami Tensei IV Apocalypse in Japan. The company also announced that the various early purchase and retailer bonuses would be released as DLC on May 21st:
the Vivid T (Tsutaya): 300 Yen
Studded L (Lawson): 300 Yen
Earring set (pre-order bonus): 300 Yen
Nintendo 3DS Theme: will be released on the Nintendo 3DS Theme Shop, will cost 200 Yen.
Source: Famitsu
Via: Persona Central
Head after the break for the rest of this post!
Zero Escape – Real Escape
This week, the Real Escape game based on the Zero Escape series opens in Los Angeles. If you're planning on going yourself, or if you're simply curious, you can check out this article by Gamasutra, who had the opportunity to talk with Tamami Kawakata (escape room designer) about how it was designed!
Bravely Second: End Layer
On Wednesday, Game Informer published an interview with Masashi Takahashi (Co-Producer) about Bravely Second: End Layer. It covers various topics, such as fan feedback, whether players need to play Bravely Default first, what games the team looked to for inspiration, why the characters look more proportionate this time around, and more. Click here to read it!
Talking of Bravely Second: End Layer, here's another trailer for it:
Circle Ent.
This week, Circle Ent. announced that the Nintendo 3DS version of ASH (a JRPG) had passed lotcheck at North America, and that they were planning a release date right about now. We should hear more about that game in the very near future!
Here's a screenshot:
Also, they asked players if they'd be excited if one of the two JRPGs they mentioned a while back was Oukoku no Douguya-san… suspicious!
Kirby: Planet Robobot
Here's various Kirby: Planet Robobot goodies, which will be available at Kiddy Land from April 28th to June 10th:
Source: Famitsu
Monster Hunter X / Generations
Here's the latest two batch of event quests for Monster Hunter X / Generations in Japan, available today and next week respectively:
Source: Famitsu
Mario & Sonic at the Rio 2016 Olympics
Here's some more gameplay footage for Mario & Sonic at the Rio 2016 Olympics on Nintendo 3DS, courtesy of CoroCoro magazine:
Fire Emblem 0
Here's the latest cards from the 4th series of Fire Emblem cards (which came out last month in Japan), along with the four promotional marker cards to be distributed at in-store events next month:
Talking of Fire Emblem 0, here's the cover of the 4th edition of the official Fire Emblem 0 card, with the latest rule sets, list of cards, and more. It comes with a promo card (the latest one for Series 4):
Source: Intelligent Systems / Serenes Forest