Dai Gyakuten Saiban: character video for Kazuma Asougi, interview
Today, Capcom uploaded one more character video for Dai Gyakuten Saiban: Naruhodou Ryuunosuke no Bouken.
This time around, it's Kazuma Asougi (Naruhodou Ryuunosuke's friend and mentor, who is also studying to become a lawyer at the same university) who is introduced, with Shu Takumi (Director) and Shintaro Kojima (Producer) explaining how the character was created, designed, and more. Unfortunately, it's only available in Japanese… for now.
Here's the video:
But that's not all: last week, Capcom posted an interview of Shu Takumu on its official website. You can find the whole thing in English (courtesy of Ash) by clicking here! While this interview doesn't allow us to learn anything really new about Dai Gyakuten Saiban: Naruhodou Ryuunosuke no Bouken, it does contain some really interesting tidbits, starting with one for the joint-reasoning system (one of the main features of the game).
Apparently, Shu Takumi had the idea for the joint-reasoning system around 2000, when he was working on the original Gyakuten Saiban/Ace Attorney trilogy. He really wanted to make a game featuring Sherlock Holmes for a long while, so he "schemed" in order to make it happen one way or another.
But there's several reasons why Sherlock Holmes appear in this game, and one of them was obviously one of the game mechanics (the join-reasoning system). Also, Shu Takumi needed something to really set apart Dai Gyakuten Saiban: Naruhodou Ryuunosuke no Bouken apart from the rest of the series, and totally changing the period was one way to achieve that. It also opened up lots of possibilities for the mystery plot.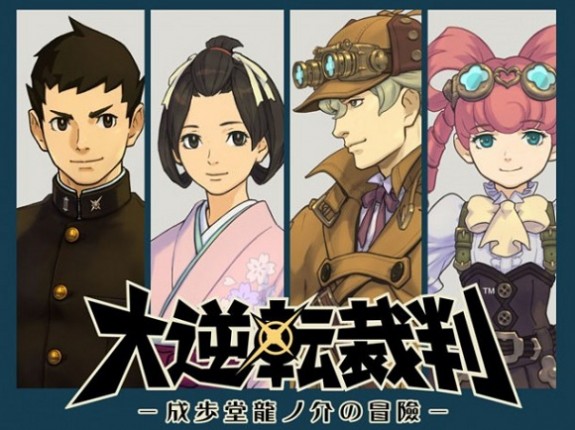 In the interview, Shu Takumi also talks about when the project started, whether Sherlock Holmes was there from the start, why the Ace Attorney series is different from other text-based adventures games, but also 19th Century London, competiting with the original Ace Attorney trilogy, character creation, and more. You should definitely check out the (fan) translation of the interview in English over at the Court Records forums!
Finally, here's the recording of Capcom TV #24, featuring Dai Gyakuten Saiban: Naruhodou Ryuunosuke no Bouken.
https://www.youtube.com/watch?v=XBIwIvSQzgU
Dai Gyakuten Saiban: Naruhodou Ryuunosuke no Bouken (3DS) comes out on July 9th in Japan.
Source: Court-Records