Collectible Badge Center: maintenance taking place on Friday, update incoming
On Friday, Japanese users (or players with a Japanese Nintendo 3DS) won't be able to play at Collectible Badge Center for a few hours. This is due to some maintenance, announced via a SpotPass notification.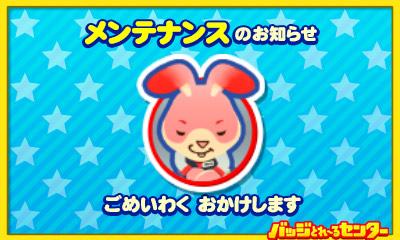 The maintenance will take place on Friday, April 24th at:
– Japan: 4AM to 11AM
– Europe: 9PM (Thursday) to 4AM (Friday)
– UK: 8PM (Thursday) to 3AM (Friday)
– North America (East): 3PM to 10PM (Thursday)
– North America (West): 12PM to 7PM (Thursday)
This maintenance is there to prepare for a new Software update for Collectible Badge Center, which will be released on Friday. Unfortunately, Nintendo doesn't say what the update will add and/or change. The 1.1.0 update added a new mechanic with a hammer, among other things.
Source: Nintendo
Via: StreetsAhead