Chibi Robo! Zip Lash: JP website open, details, screenshots, videos, and more
Update
Here's some additional screenshots for the game, courtesy of 4Gamer.net:
***
Today, Nintendo opened the official website for Chibi Robo! Zip Lash in Japan. Gameplay-wise, there isn't many new details in there, but there's still some rather neat tidbits and videos in there.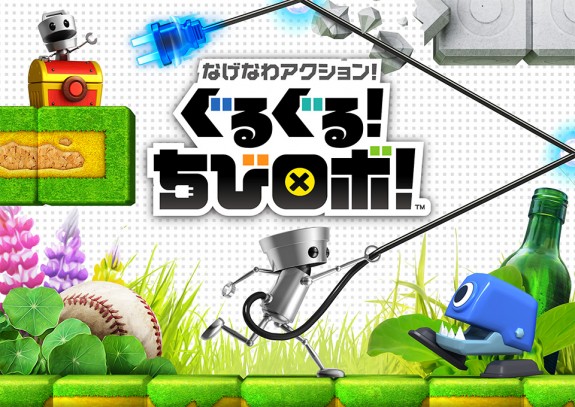 But before we talk about the website itself, here's some "technical" details about the game:
File size: 1GB (8 200 blocks)
Players: 1
Save data files: 3
Stereoscopic 3D: Yes
Miiverse: can post play status.
SpotPass: No.
Compatible amiibo: Chibi Robo! (you can become Super Chibi-Robo!, save your scores, and unlock the Gashapon machine); any amiibo: unlock a special figure of Chibi-Robo! imitating the pose of the character scanned, that you get via the Gashapon machine).
The first section focuses on the various actions Chibi-Robo! can perform with his power cord, which allows it to defeat enemies and navigate through the levels by latching on special (orange) surfaces. There's also the Ice and Fire power-ups, which allow Chibi-Robo! to use powers based on these two elements. As for the short gameplay videos, you will find them below!
The second section isn't open yet, but the third one is, and shows special items called "Confections". They're basically treasures you can find in treasures chests within the levels, and there's 100 of them in total. However, there's something a bit… special about those treasures: they're based on real-life snacks such as Pocky.
Here's some the snacks to be found in the game (we don't know if those will be kept in the European and North American version, or if they will be replaced/removed altogether):
What's more, a special demo will be distributed via QR codes, found on the packing of the following snacks:

If you're interested, Nintendo launched an official Instagram account for Chibi-Robo! in Japan. The first pic posted is one of the Chibi-Robo! amiibo, which will launch along side Chibi Robo! Zip Lash:
Here's some screenshots from the game, courtesy of Famitsu:
Finally, here's the videos from the official website, along with some screencaps:
Head after the break for the rest!
Chibi-Robo! Zip Lash (3DS) comes out on October 8th in Japan, October 9th in North America, and November 6th in Europe.