Hatsune Miku: Project Mirai DX gets an official website and some screenshots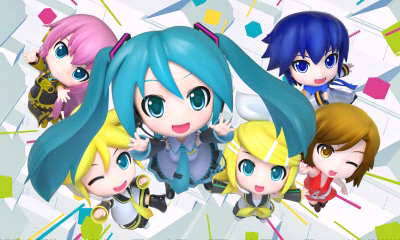 After a delay of several months (it was originally supposed to come out in May), Hatsune Miku: Project Mirai DX is finally ready to come out in Europe and North America, next week! To prepare for this long-awaited launch, SEGA has finally opened the full English website for the game: click here to find plenty of information, including the tracklist, details on the various modes, and even a set of AR cards to print out.
But that's not all: SEGA also published a blog post, with additional details about the game. First, they tell us about the Dance Studio, where you can make your characters dance using Dance Cards. Here's the different kinds of moves you can use:
Basic Moves
Kool Moves
Cute Moves
Active Moves
P. Video Moves (moves specific to their specific songs)
Finish Moves
The Dance Studios has two modes:
Simple: you can drop Dance Cards easily by using the Control Pad and the A/B/X/Y buttons.
Advanced: allows you to polish your choreographies from Simple Mode, or create one from scratch. You can put Dance Cards at any time in the song, manually, which definitely takes more time… but the result is a much more polished choreography.
Once you're done, you can share your choreography with other players, via StreetPass. Of course, you can check out those received from other players, and the game gives you the opprtunity to change the camera angles on the fly if you want to be a Director.
Next, SEGA gives some details about the Profile Card you can share with other players via StreetPass. It's made of several elements:
Pose: you can chose among 45 possible poses;
Tagline: they are comprised of a back and a front. You can unlock more taglines by progressing through the game and completing your Stamp Collection;
Personal greeting;
Design: most are based from the various songs in the game. They are unlocked as you progress through the game;
Backdrop: a holographic overlay. Also unlocked as you progress through the game.
Stickers: allows you to chose whether you share your Dance, Tune and/or random comments from your videos with other players or not.
Whenever you meet other players via StreetPass, you will get updates for their Profile Cards if they made any modifications.
Finally, we have some details about the mini-games found in Hatsune Miku: Project Mirai DX, starting with Puyo Puyo 39. You can chose to play against the CPU or a friend, via local wireless, and while listening to the game's soundtrack. If you become good enough, you can even unlock a little bonus!
As for Mikuversi, it's a special version of the famous board game. If you play against the CPU, you better be prepared: if you get better, it also gets better!
Here's the latest batch of screenshots for Hatsune Miku: Project Mirai DX on Nintendo 3DS:
Hatsune Miku: Project Mirai DX (3DS) comes out on September 8th in North America, and September 11th in Europe.
Source: SEGA