Buddy & Me: Dream Edition announced for Wii U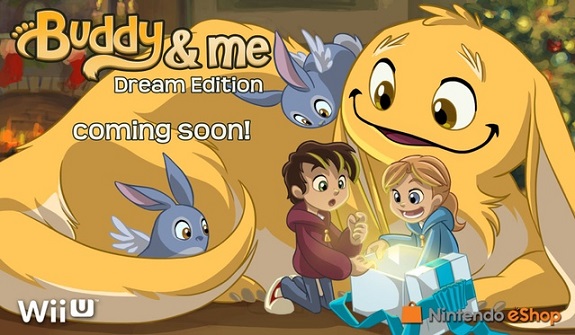 A few days ago, the developers of Buddy & Me teased a possible Wii U version for the game, and today, they confirmed that such a version was indeed in the works. Now that the game is running on Unity (an engine supported on Wii U, and available for free to all developers), Sunbreak Games decided to make a gift to Nintendo fans, who never forgot about the game (despite the Kickstarter campaign missing the Wii U stretchgoal).
The developers teamed up with Sky Tyrannosaur, and are making an upgraded version of the game called "Dream Edition". It includes some of the contents from the Samsung Smart TV version of the game, and more:
new Outfits
new Seasons
new Boosts
Gallery, with concept-art to unlock
But the developers want to do more for this Dream Edition (which may very well be the last one), and want to add additional features to the game (including some that were cut from the final game for various reasons).
Those include:
Ziplines ($5 000 in budget)
Localisation ($2 500 in budget)
Bunny companions ($2 500 in budget)
Treehouse mode ($20 000 to cover for code, art, animation, and sound), which might then turned into its own game
Right now, the game is already running on Wii U devkits, and the team is currently working on polishing the game and getting rid of pesky bugs. It should be released sometime in Spring in Europe and North America. Kickstarter backers who pledged money in order to fund the Wii U version will even get a complimentary download code for it.
Click here to read more details about the Dream Edition of Buddy & Me!